Borderlands 3 Show Me The Eridium Event Starts Tomorrow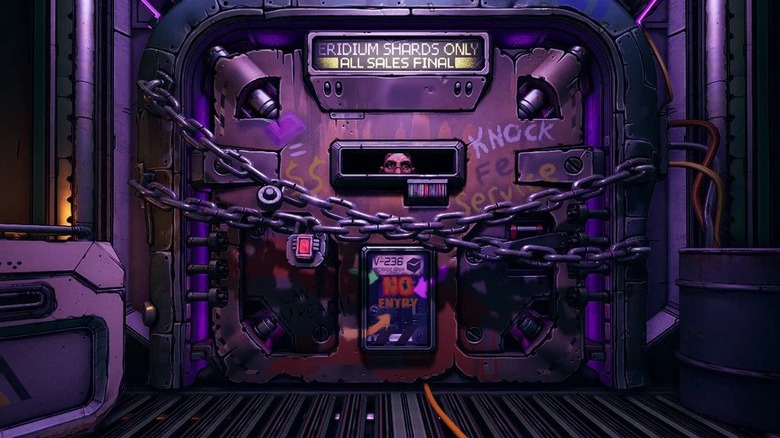 At the start of the month, Gearbox unveiled their plans for the Borderlands Anniversary Celebration, a five-week series commemorating the 10th anniversary of the Borderlands franchise. The third event, titled "Show Me the Eridium," goes live this week, bringing several changes and bonuses to Borderlands 3 that will last until October 21.
Show Me the Eridium will deploy via a small patch, adding Eridium drops to standard enemies, increased Eridium drops in Mayhem Mode, discounted Eridium costs at Moxxi's Vault Line slot machine, and a discount on all items at Crazy Earl's hideout in the Cargo Bay of Sanctuary 3. For the uninitiated, Crazy Earl is the only vendor who deals in Eridium, the purple ore earned exclusively through gameplay. While several strong Eridium farming methods already exist, this week's theme will be a boon for anyone looking to up their Vault Hunter's power and coolness factor.
Crazy Early will trade a variety of cosmetic items for the crystalline shards, including Vault Hunter Heads and Skins, Emotes, ECHO themes, Trinkets, Weapon Skins, and Room Decorations. You can also use Eridium to buy Anointed weapons via his Veteran Rewards vending machine, powerful gear that can improve action skills which, according to Gearbox "may or may not be specific to one Vault Hunter."
The Show Me the Eridium event begins tomorrow, October 15, by 3 p.m. PDT, marking the end of the Rare Spawn Hunt. Players still looking to farm some rare enemies should get hunting before the promotion ends. Gearbox has yet to share the details for the Week 4 and Week 5 events, titled "Mayhem on Twitch" and "Spooky Surprise!" respectively. Should the publisher follow their established pattern, you can expect more information about each feature the day before they go live.
Borderlands 3 is available now for PC, PlayStation 4, and Xbox One, with a Google Stadia port currently in development.