Apex Legends: How To Unlock The Lifeline Heirloom Set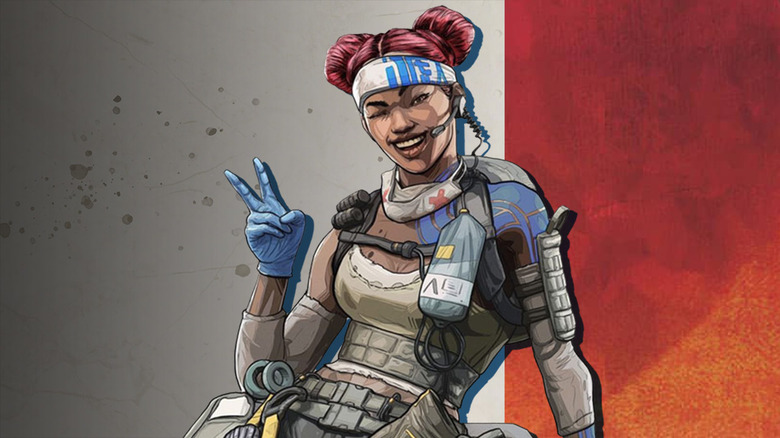 Respawn Entertainment has chosen Lifeline as the next Legend to receive their own Heirloom, an ultra rare cosmetic set that comes with a unique banner pose, melee skin, and intro quip. She will be the third character in the game to get one of the special legendary collections, following Bloodhound and Wraith. 
Normally, you can acquire Heirlooms through Apex Packs, which have an unboxing chance of less than 1%; however, you'll have the opportunity to unlock the new Lifeline Heirloom during the upcoming Fight or Fright Collection event. To claim the Lifeline Heirloom, you must unlock all 24 items (12 epic, 12 legendary) released during the Halloween-themed limited-time event. You have three main options to accomplish this: direct purchase, crafting, and event Apex Packs.
Of the options, direct purchase is the fastest and most expensive route. Purchasing the 12 epic and 12 legendary items will set you back a total of 33,600 Apex Coins, which costs around $300. Unless you've been hoarding Crafting Metals from Apex Packs, the crafting approach will also cost you, requiring 2,400 Crafting Metals per legendary item and 800 Crafting Metals per epic item.
The cheapest way to unlock the Lifeline Heirloom is by purchasing event Apex Packs, which cost 700 Apex Coins each. Respawn has guaranteed that the event Apex Packs will always contain one event item and no duplicates, meaning you can purchase 24 event Apex Packs for 16,800 Apex Coins, approximately $160. This makes the Lifeline Heirloom the cheapest of the trio, as it cost around $180 to unlock Bloodhound's Heirloom during the Iron Crown event. The Wraith Heirloom is the most expensive of the bunch and has always cost around $500 since it did not release in tandem with a limited-time event.
No matter how you spin it, $160 is a lot of money, especially for a cosmetic item set. If you're a Lifeline main and can't live without the new banner pose, melee skin, and intro quip, the Fight or Fright Collection event is the best time to go after it, as it will be harder and more expensive to unlock once the promotion ends on November 5.