Dragon Ball Z: Kakarot Release Date, Trailer, Characters, And Story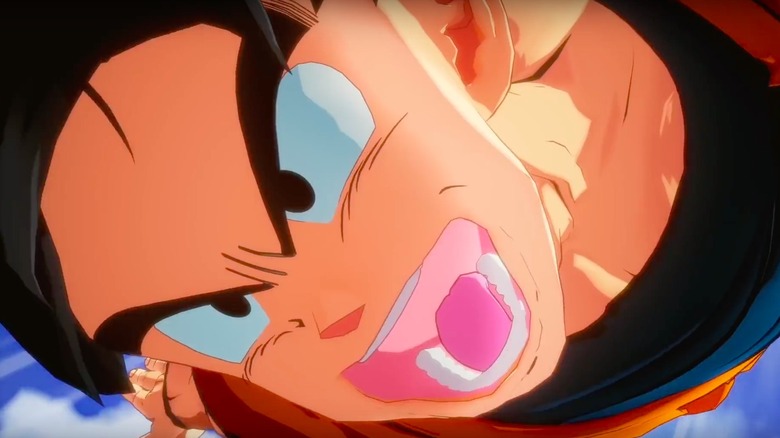 Fans of the Dragon Ball franchise were overjoyed when a new title was announced that would focus on expanding and exploring the lore from Dragon Ball Z. This new action RPG game, called Dragon Ball Z: Kakarot, is being developed by CyberConnect2, the minds behind Naruto Shippuden. And while the game was simply referred to as Project Z for a long time, the title was officially given at E3 2019, letting fans know that Goku would be the main focus of this new game. 
Advertisement
Game producer Ryosuke Hara stated in an interview with PlayStation that this game would be accessible to both die hard Dragon Ball fans and people just learning about the lore. Because the new game will focus heavily on lore from the anime series and will act as a sort of playable anime itself, new fans will be able to learn about the origins of the story without feeling overwhelmed by the backlog of lore they've missed out on over the years. And while fighting and battles will feature heavily in this game, Bandai Namco's wesite also emphasizes that players will get to "experience life in the Dragon Ball Z world as you fight, fish, eat, and train with Goku," suggesting that this game will be all about the DBZ experience.
Advertisement
When will Dragon Ball Z: Kakarot be released?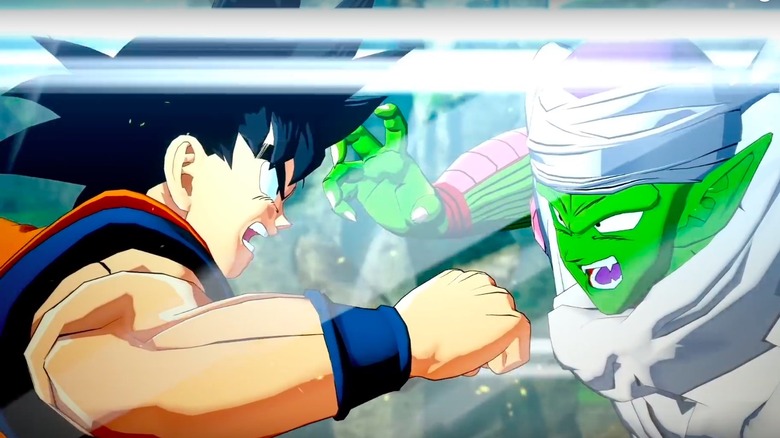 The original release trailer for Dragon Ball Z: Kakarot stated that the title would be released in 2019, but as we near the end of the year with no gameplay footage having been released, some fans are growing doubtful of this tentative launch window. Since the original trailer's release, Sony has posted that the game will be available Jan. 17, 2020, despite the fact that the Bandai Namco website still has a vague "Coming Soon" label under the game's release date. When it does arrive, it will be available on PC, PlayStation 4, and Xbox One. The game can already be pre-ordered from many sites.
Advertisement
Is there a trailer for Dragon Ball Z: Kakarot?
The trailer for Dragon Ball Z: Kakarot debuted in 2019, back when it was still titled Project Z. This sneak peek at the game gives players a chance to view the innovative art style that combines both gaming mechanics and the art of anime into one neat package. The drawn quality of the characters gives Dragon Ball Z: Kakarot a unique look that will make it stand out among other titles in the action RPG genre. And though no actual gameplay footage is shown in the trailer, it still gives a nice look into the story and characters.
Advertisement
What characters will be in Dragon Ball Z: Kakarot?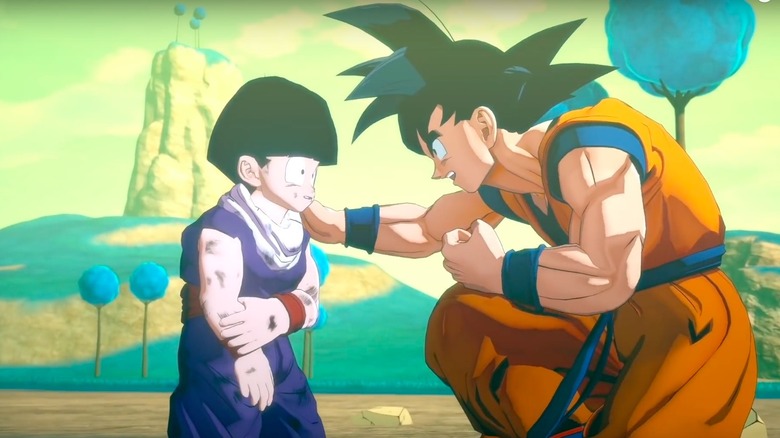 There will be a lot of characters to interact with in Dragon Ball Z: Kakarot. Because the game will be closely mirroring the original anime, it's likely that most characters encountered in that show will also be included in the game. Some confirmed fan favorites are Goku, Piccolo, Vegeta, Chichi, Ox-King, Gohan, and Android 16. And a new female character named Bonyu will also be included. She is someone that the creator of the original show had in mind for a long time, even though her character was never actually explored in Dragon Ball Z. Along with Bonyu, there will more than likely be other newcomers for fans to look forward to, as well.
Advertisement
What is the story of Dragon Ball Z: Kakarot?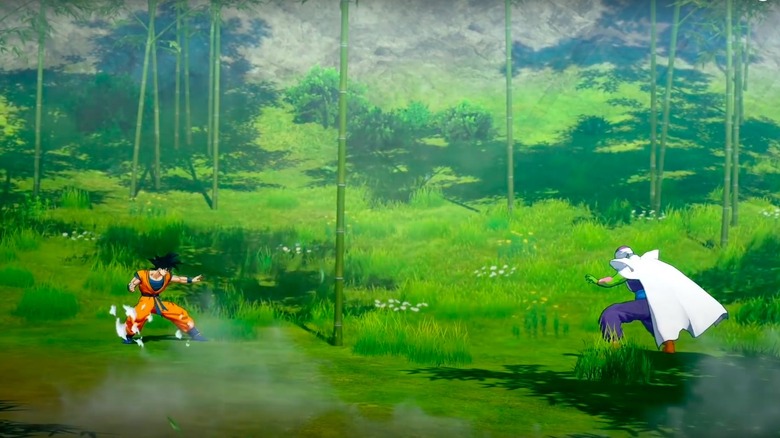 According to the game's producer, Ryosuke Hara, Dragon Ball Z: Kakarot will be like a playable version of the original anime series. This means that many of the events portrayed in that series will also be portrayed in the new game. Some of the confirmed story arcs fans can expect are the first battle between Goku and Frieza, Goku's first encounter with Vegeta, Goku's first fight with Piccolo, and many other first encounters. Players will essentially be living out the life and story of Goku, while getting even more background than the anime gave.
Advertisement
The game will also very heavily focus on what happened in between the iconic fights we've seen play out on the screen. While fans are excited to get the chance to reenact their favorite fight scenes, it will also be interesting to learn more about each character's life and motivations through these in-depth looks at their story arcs.
What moves will Dragon Ball Z: Kakarot have?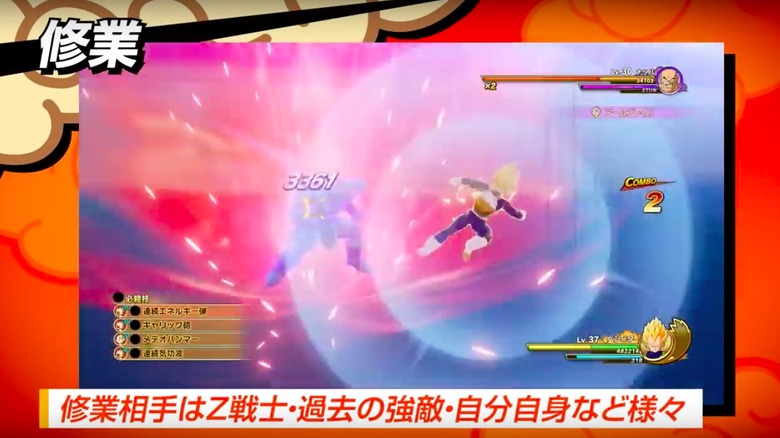 Bandai Namco has released a new trailer showcasing a skill tree and combat moves for Dragon Ball Z: Kakarot. Unfortunately, the new trailer hasn't been translated into English yet. But even without an English trailer, we can already tell that some of our favorite combat moves will be available in the new game. Many of these moves were featured in the new trailer, and while we're sure Bandai Namco couldn't show off every move in Kakarot, there are a few to be excited about. 
Advertisement
Super Saiyan form is obviously a fan favorite, so to see it displayed in the trailer gives a lot of Dragon Ball Z fans exactly what they were hoping for. We also saw the Kamehameha Wave, Spirit Bomb, the Dragon Hammer Strike, Solar Flare, and the not-very-serious Scissor Paper Rock. Because the Scissor Paper Rock move originated in the early animation and is more of a gag move, we're happy to see it getting some love in the new game. Even though this list of techniques isn't even close to every combat maneuver you'll be able to perform in the game, it's a great jumping off point and the start of a solid arsenal.
What is Dragon Ball Z: Kakarot's skill tree?
The new Dragon Ball Z game will feature skill trees for each individual fighter. Just like other RPGs that showcase skill trees based on a character's specific class, these trees will play to the specific strengths of each character and are individualized with different skill options. In-game training sessions will allow you to hone your skills and develop new ones, but there are other ways to gain new skills
Advertisement
Mini-games will feature heavily in Kakarot, as well, and will depict scenes from the anime, allowing players to reenact iconic moments. Also, as players traverse the map and collect Z Orbs, they will be able to use these orbs like skill tree currency, spending them on different abilities. Because players will be able to use multiple fighters, the individualized skill trees will help keep things organized and provide new information, lore, and backstory about characters we've known for years.