Here's How To Catch The Mythic Goldfish In Fortnite: Chapter 2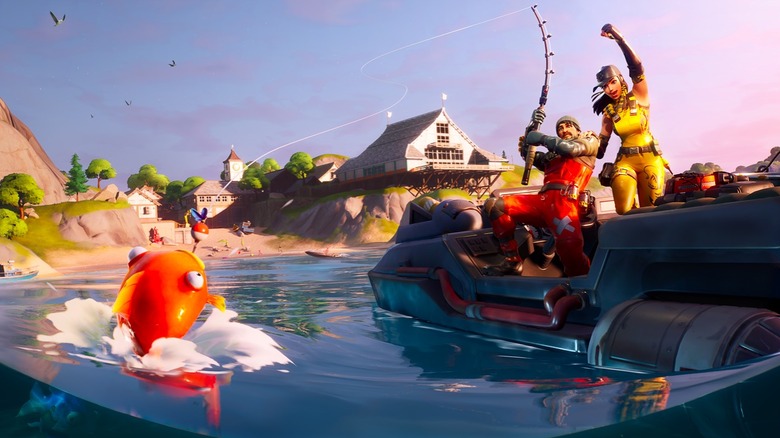 Fortnite: Chapter 2's Season 1 has brought a lot of new changes with it, but one of the biggest is the ability for players to fish. And when that massive Chapter 2 update rolled out on Oct. 15 and players got to fishing, there was talk of a rare catch that could yield great rewards: the Mythic Goldfish.
The problem? It's not actually in the game yet.
A lot of different things can be fished out of the water in this new Fortnite update, it turns out. Players can find mats, weapons, or a variety of fish that act like a shield, buff, or healing tonic. But of all the things you can potentially fish out of the water, the Mythic Goldfish seems to be the the most sought after, and for good reason. The Mythic Goldfish is needed to complete at least three of the achievements created in the new patch. These achievements can be obtained by catching a Mythic Goldfish, killing an opponent with a Mythic Goldfish, and getting killed by a Mythic Goldfish. 
Once you've obtained this fish, the tasks shouldn't be very difficult to complete, especially when you consider the fact that the Mythic Goldfish deals 90 damage when thrown at an opponent. Unfortunately, all we can do right now is sit back and wait for it to be released into the game. Once it is, the standard practice of fishing should be your best bet for obtaining one. But keep in mind, the rarity of this Mythic Goldfish will likely make it difficult to catch, which means players will be learning a lesson in patience, whether they want to or not.
The addition of the Mythic Goldfish to Fortnite: Chapter 2 will likely be a very big deal, so once we have word about players catching it in the wild, we'll be sure to let you know.