Fortnite: Chapter 2 Goes Big With A New Map, New Mechanics, And More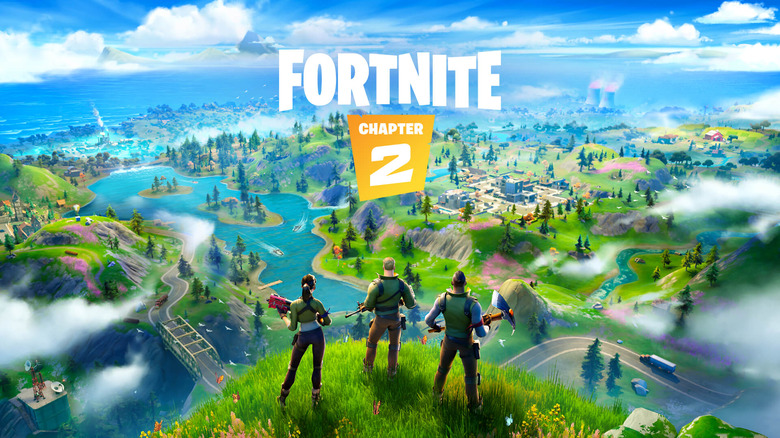 At not-very-long last, Fortnite is back online, and its taken the very shape the leaks predicted. The game is now called Fortnite: Chapter 2, and in addition to giving players a brand new map full of never-before-seen locations, Epic Games also overhauled its battle royale shooter significantly, adding tons of new mechanics and features.
It's safe to say that this is definitely the most ambitious version of Fortnite yet.
Let's start with Chapter 2's new map, which is already more interesting right out of the gate when compared to the first map found in vanilla Fortnite. This new map seems to have more going on in terms of geography, with a large river running through it to a dam, smaller streams weaving their way around the new space, and more hills and mountains to go around. And various points on the map — the ones we'd call "named locations" — seem to flow more naturally into one another. For instance, we're not spotting a snow-covered area right next to a warm-looking beach.
The new mechanics being added to the game appear very interesting, as well. Fishing in a lake or a stream for loot sure looks like a fun way to pass the time. The game is doing more to embrace stealth options in Chapter 2 by giving players more places to hide. You can pick up a downed ally and carry them to a safer location, which will undoubtedly make for some great YouTube clips of daring rescues. And it looks like players will even get the chance to play "healer," if they so choose: there's either a grenade launcher or bazooka-type weapon that shoots health, enabling you to replenish the life of a teammate who's on their last legs.
There are an awful lot of people trying to download and play the Fortnite: Chapter 2 update right now, so if you experience some issues with download speeds or the game's servers, don't be surprised. In the meantime, we'll have an eye out for what else is new in Chapter 2, so keep checking back.