Borderlands 3's Halloween Event Is Coming This Week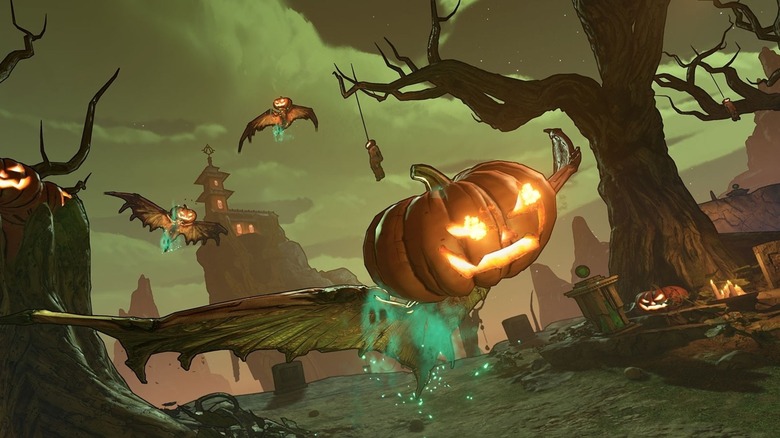 Borderlands 3 is taking full advantage of the spooky season and spreading a little Halloween cheer via the upcoming free content update called Bloody Harvest. Get ready to harvest some ghostly new loot, Vault Hunters. You're in for a treat... and a few tricks. 
The trailer shows off a new map that would look right at home in a haunted house, complete with gargoyles and jack-o-lanterns. Players have access to this realm of ghosts and goblins so long as they have departed Pandora and started exploring new worlds, cruising in comfort on the Sanctuary 3. The new enemies, appropriately eerie, are "Haunted." This means that you'll have to fight them twice, once in their physical forms and a second time as they rise as vengeful spirits. These Haunted enemies are dangerous to the touch, too: the Terror debuff will distract you with a spectral mist, making it harder to aim. 
There are also Rakk-O'Lanterns, which are fire-breathing Rakks with pumpkins on their heads. Cute! A little less cute is the new boss, Captain Haunt, who likes to throw around flaming skulls. Taking him on will be a little less terrifying if you happen to get the new legendary weapon called The Fearmonger. It has a tentacle-y Eldritch stock that apparently fires a freeze ray, petrifying enemies in ice. Talk about scared stiff. 
There are also new Vault Hunter skins with an electric purple highlight that we love, and a weapon skin that adds some wailing ghosts to your favorite guns. Throw in that shrunken head weapon trinket, and we're ready to go trick or treating (emphasis on the trick).
Players will be able to start their bloody harvest on Oct. 24 and continue their Halloween-themed fun and games all the way to Dec. 5 when Borderlands 3's Bloody Harvest event comes to a close.