Red Dead Online Adds Spooky Masks And New Legendary Bounty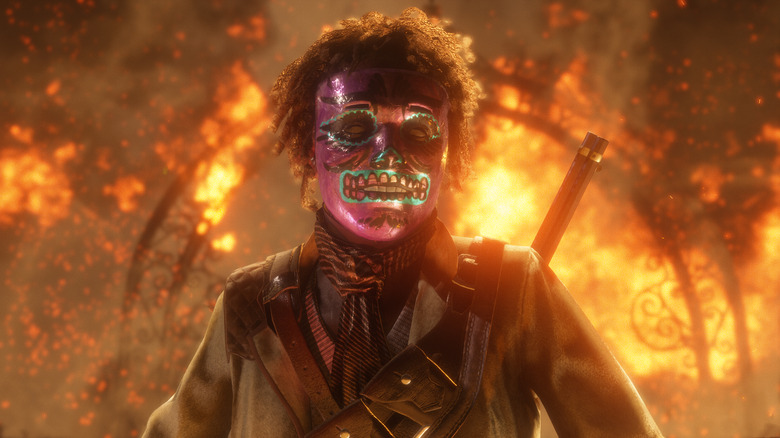 Getting in on the Halloween spirit, Red Dead Online has added new content, including a swamp-dwelling Legendary Bounty, spine-chilling All Hallows' Eve masks, and weekly bonuses.
Legendary Bounty Philip Carlier has lived on the fringes of civilization since being fingered for embezzlement and the murder of a fellow employee of the Lemoyne Trading Company two years ago. The isolation of the Lagras swamps, mixed with his love of dissociative chemicals, has reportedly twisted his mind, making Carlier extremely volatile. The murderer is wanted dead or alive. You can pick up his poster at a local sheriff's office and revisit the Bounty Board again after a brief period to replay the mission at an increased difficulty.
Madam Nazar has new macabre masks on offer, including the Freak Mask and Swine Mask. Rockstar is also handing out free masks to players who are in any of the three Specialist Roles. Licensed Bounty Hunters will get an exclusive variant of the Creature Mask; Traders will receive an exclusive Swine Mask; and Collectors will receive an exclusive Masquerade Mask. Your freebies should appear in your wardrobe with 24 hours of logging into Red Dead Online. 
Additionally, Outlaw Pass holders who have hit Club Rank 10 will get an exclusive variation of the Freak Mask while Club Rank 20 Outlaw Pass holders get this plus an exclusive variation of The Horror Mask. You can also snag a unique colorway of the Slaughter Mask by logging into GTA Online any time before December 12.
Make It Count is this week's featured Free Aim Series, tasking you with taking on your opponents inside a shrinking arena using nothing but a Bow and Arrow or Throwing Knives. The bout ends when one player is left standing. Rockstar is also offering several bonuses right now. Bring Madam Nazar the Cheaters Suit before October 29 to collect a reward. You'll also receive an additional 2,000 Club XP and a 30% XP Boost towards your progress in the Wheeler, Rawson & Co. Club and The Outlaw Pass for playing Red Dead Online.
For a full breakdown of this week's bonuses, benefits, challenges, and items, head over to the official Red Dead Online website.