Dying Light And Left 4 Dead 2 Crossover Event Teased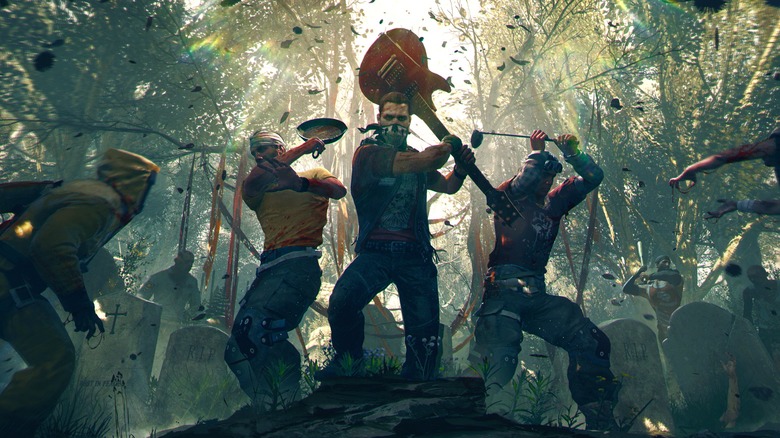 It started as just a rumor, but recognizing how much fans loved the idea, Techland looks to be making the fabled Dying Light x Left 4 Dead 2 crossover happen. In a tweet today, the studio told players to be prepared for some serious zombie slaying, letting everyone know that "#left4dead2 style is coming!" 
Survivors!
Are you ready for some serious zombie slaying? #left4dead2 style is coming! pic.twitter.com/Lv4XXyf8Jn

— Dying Light (@DyingLightGame) October 23, 2019
According to the replies, players are very much ready. The rumors of this crossover started earlier this year in April when some tantalizing screenshots surfaced, allegedly from the long-awaited Left 4 Dead 3. Despite the fact that Valve hadn't made so much as a peep about the sequel, the screenshots looked legit. A trusted YouTuber Tyler McVicker examined these screenshots, having already proved his prowess in debunking and proving leaked screenshots from Valve before, and pronounced them as unlikely to be fake. But Valve quickly crushed fans' by stating the company is not working on Left 4 Dead 3 at this time. 
But hey, Techland has swooped in with a pretty pleasing alternative in the form of the crossover event (if it indeed happens). While we don't have a lot of information so far about the potential event, the developer tweeted an image showing off some of the classic, if kooky weapons of the Left 4 Dead franchise, which could enable players to take on the hordes armed with a cast iron skillet, an electric guitar, or a golf club. Fore! We're not sure which skins will be available for this event, but it's likely that they will be characters from the second game. We'd personally like to see Coach parkouring around with the grace of a teenager. 
Techland is also currently working on a sequel to Dying Light, which is set to release sometime in Spring 2020, should everything go according to plan.
We'll update you as soon as we have more news on the Dying Light x Left 4 Dead 2 crossover.