League Of Legends' New Hip-Hop Group Features Louis Vuitton Designs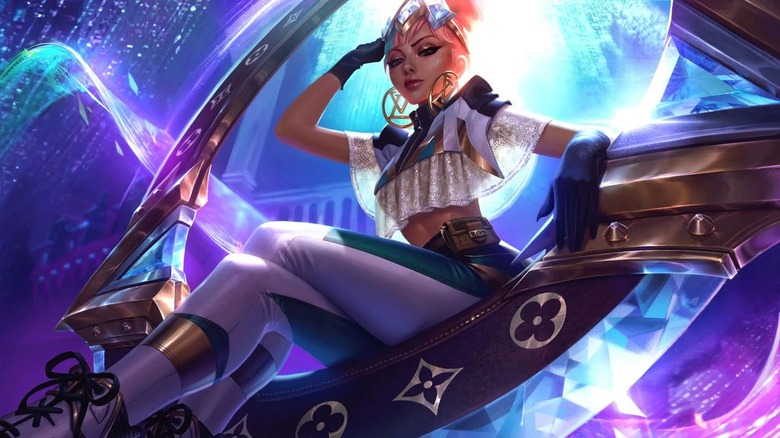 Following in the footsteps of K/DA, the virtual k-pop group that took the gaming world by storm last year, Riot has announced another musical act on its way to the Rift: True Damage.
True Damage will make their debut at the League of Legends World Championship in Paris on November 10. Drawing from the roots of the tournament's host city, the hip-hop group will feature designs created by French fashion house Louis Vuitton. Like K/DA, True Damags includes the talents of real-world performers, with Soyeon of (G)I-DLE, Duckwrth, Thutmose, Becky G and Keke Palmer scheduled to perform at the opening ceremony.
In the League of Legends lore, True Damage is composed of five champions: Qiyana, Akali, Ekko, Yasuo, and the recently introduced Senna. Senna, along with new True Damage skins for each champion, will go live on November 10 in conjunction with the World Championship performance. 
According to Carlos Giffoni, lead producer for skins at Riot, work on True Damage started shortly after Riot introduced K/DA, a move that proved to be a resounding success. The group's single, "Pop/Star," drew in 5 million views in a single day on YouTube, a number that has risen to over 275 million in the last year. A narrative element bridges the two events, with K/DA member Akali setting out in search of new collaborators, leading to the formation of True Damage.
The partnership between League of Legends and Louis Vuitton marks the first time a high fashion brand has incorporated their designs into one of the world's most-played games. Though bringing hip hop and couture styles to a battle arena presented new challenges for the team, Riot art director Seth Haak revealed that the two companies gelled from day one. "It was pretty uncanny how on the same page they were with us," said Haak. "We didn't actually have to alter any of the designs, besides some color so that it would play well with gameplay."
As for how Louis Vuitton's work will fit into True Damage, both Qiyana and Senna will feature prestige skins designed by LV artistic director Nicolas Ghesquière. You'll be able to unlock Qiyana's LV Prestige Skin by playing games during the 2019 League of Legends Worlds Event. Senna's LV Prestige Skin will be available early next year.