Battlefield 5 Year 2 Edition Available Now For PC, PS4, And Xbox One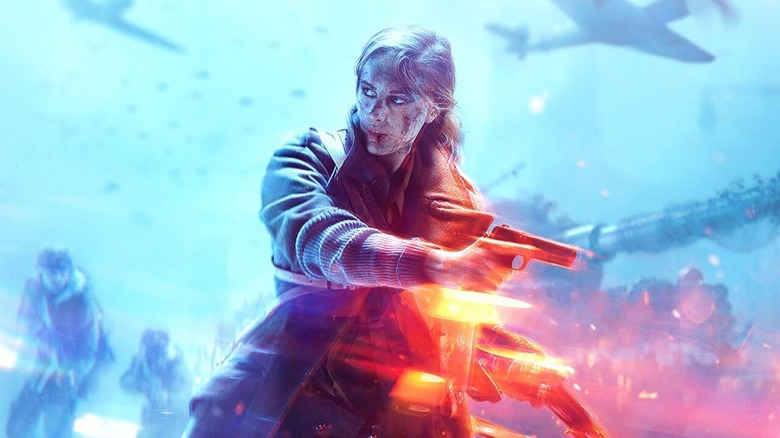 You can now buy a new digital version of Battlefield 5 for PC, Xbox One, or PlayStation 4.
Battlefield 5 Year 2 Edition arrives in tandem with the War in the Pacific update. For $49.99, you'll receive the base game, granting access to Battlefield 5's larger-than-life multiplayer modes and the single-player campaign, War Stories. The Year 2 Edition also comes with 37 Chapter Reward items handed out during the game's first year, including weapons, vehicles, weapon skins, vehicle skins, and epic soldier outfits. Here's a full breakdown of everything you'll unlock:
7 Primary Weapons

Ag m/42
Boys AT Rifle
Commando Carbine
Lahti-Saloranta M/26
P08
M1922 MG
Tromboncino M28
MAB 38
Modèle 1944
Mk III
Selbstlader 1906
VGO
ZK-383
Kbsp wz. 1938M
S2-200
Panzerbüchse 39
M1935 PG Rifle

4 Vehicles

Stug IV
Archer
JU 88C
Mosquito FB Mk VI

2 Epic Soldier Outfits

Double Down
Baron Von Zorn

10 Epic Weapon Skins

White Tiger (Ag m/42)
Napalm (Bren Gun)
White Tiger (M1922 MG)
Napalm (M30 Drilling)
Napalm (Lee-Enfield No. 4 Mk I)
Napalm (MP 40)
White Tiger (Mk III)
Napal,m (STG 44)
White Tiger (VGO)
White Tiger (ZK-383)

4 Epic Vehicle Skins

Stug IV vehicle skin
Valentine AA Mk 1 vehicle skin
Spitfire Mk VB vehicle skin
JU 88C vehicle skin
Due to the release of the Battlefield 5 Year 2 Edition, the Deluxe Edition and Deluxe Edition upgrade are no longer available for purchase. The Xbox Store also features a Year 1 Catchup Pack that appears to contain most of the same rewards, minus four weapons. It seems to be designed for players who have already purchased the base game but missed out on unlocking the first year cosmetics. The Year 1 Catchup Pack is currently unavailable for purchase and EA has not provided a prospective release date.
With War in the Pacific and update 5.0 now live, it's a prime opportunity to jump back into Battlefield 5 or check it out for the first time.