WWE 2K20's Latest Patch Will Hopefully Make The Game Less Glitchy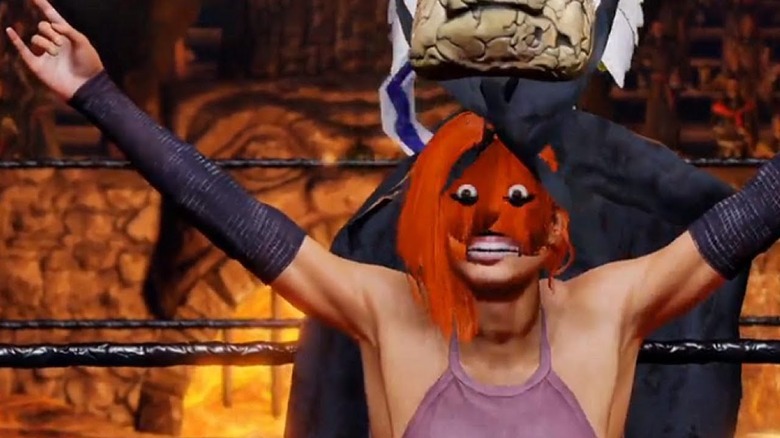 It's no secret that WWE 2K20 launched in the condition of "hot trash," with funky textures, glitched out environments, wrestlers crabwalking, referees refusing to count, entrance music never turning off, and so much more. It's hoped, however, that a new patch issued today for the title will fix many of those issues.
The patch, simply numbered 1.02, addresses a number of problems players have encountered since picking up the undisputed worst wrestling game ever released. For instance, it appears "Interactions with tables, ladders, steel steps, and other objects" are getting fixed, which could help these objects stay in the ring instead of teleporting below it. "Referee actions" are also getting a rework, so when you pin an opponent, the referee may finally drop down and count to three, which is crucial for a wrestling title.
"Characters 'warping' or moving unnaturally around the arena" is another issue being targeted by the patch, and really, may be the most fun WWE 2K20 bug to watch on YouTube. Most players, though, will undoubtedly be happy about the attention to "Crashes and Freezing," which seemed to occur when players did things they should be allowed to do in the game, like change a wrestler's outfit.
Will this be the patch that saves WWE 2K20 from the bargain bin? It's tough to tell at this point. We've seen a lot of games launch in less than stellar states, but nothing quite on the scale of what 2K20 unleashed onto the legions and legions of WWE fans. It's possible this patch, plus a few more, could get the game into working condition and potentially give it new life. It's also possible WWE 2K20 has tarnished the brand in an irreparable way, and that fans of the series will have a hard time trusting 2K ever again.
We'll update you if we hear more on the WWE 2K20 repair process.