Overwatch 2: Everything We Know From BlizzCon
Game director Jeff Kaplan (clad in a D.Va hoodie, no less), delivered on all the rumors surrounding the enigmatic "Overwatch 2" we've been hearing so much about. Yes, Overwatch now has a sequel, Kaplan finally and officially announced. According to Kaplan, Overwatch 2 is going to "redefine what a sequel means." How so? Don't worry about losing your hard-earned cosmetics and progress: all that will be saved and available in the next title.
Advertisement
Kaplan also assured us that Overwatch and Overwatch 2 will feature crossplay: as in, those who own Overwatch will be able to play with those who own Overwatch 2. And he revealed a whole lot more news, too. So get ready: we're here to break down all the new information about Overwatch 2 from the BlizzCon mainstage.
The big, beautiful cinematic
The presentation kicked off with a number of dad jokes from Kaplan, the father of Overwatch, before we were treated to a brand new cinematic. This cinematic started off where one of the very first Overwatch cinematics left off: Overwatch was disbanded, but Winston decided it was time to get the band back together. With Tracer and Mei at his side, the three fly into Paris, where the city streets are under attack from Null Sector omnics. 
Advertisement
While fighting, the omnics get the best of Mei: it turns out she was right to ask if they had enough heroes for this mission. Things look grim, but Genji appears in the nick of time, soon followed by Reinhardt and Brigitte (who have a new interlocking shield ability that we desperately hope will be an in-game feature). Then we see Echo, a new and not-yet playable hero that we caught a glimpse of in a previous McCree-centered cinematic. With Mercy's appearance, that leaked artwork is complete. 
After defeating their big, bad foes in a big, bombastic way, a French police officer asks if this means that Overwatch is back. "Yes, yes we are." Winston replies proudly.
Story at the center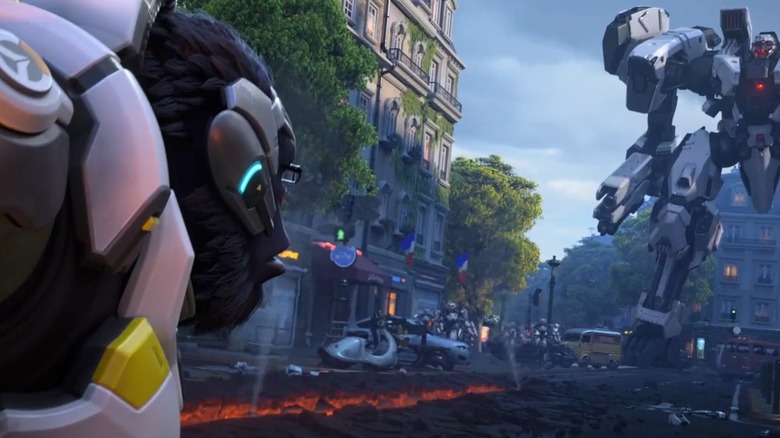 The thing about Overwatch is that there is a lot of story that the gameplay never really touches. When it comes to Overwatch 2, story will be a more central part of the game. Overwatch 2 tells the tale of what happens once Overwatch is reinstated. Working out of a base, the sequel will feature a complete story told through PvE missions in various new locations throughout the world. 
Advertisement
This story also explains the brand new look all the heroes have: they've got some new duds now that they are back in action. This new look is thanks to the engine updates that Kaplan mentioned. Tracer's new glasses were a giveaway to this new development.
New modes: Hero missions and Push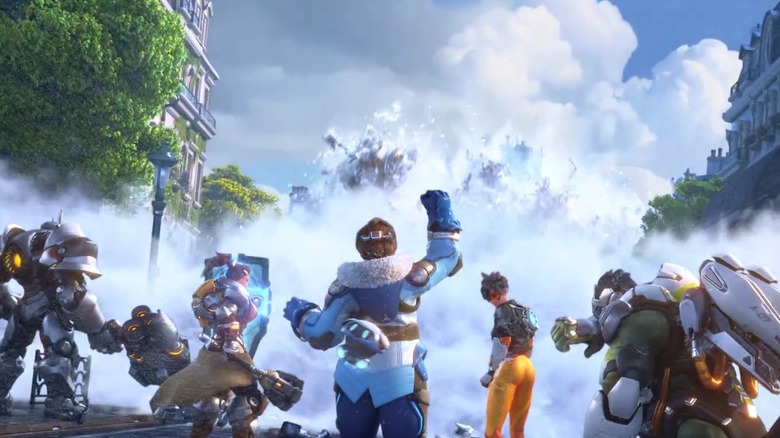 Not only will there be new missions telling the story of Overwatch (at long last), there will also be "highly replayable" hero missions. This co-op mode features skill progression, so players can unlock new abilities on their old favorite characters. Kaplan directly compared these missions to the adventure mode in Diablo, so it sounds like this mode will feature satisfying challenges that you'll want to continually come back to. 
Advertisement
There is also a new PvP mode called Push. This mode will be played on new maps in new cities like Toronto. Kaplan emphasized the fact that this is a core mode: it will be available for quick play and competitive matches, and will also be a new part of the Overwatch League.
New hero: Sojourn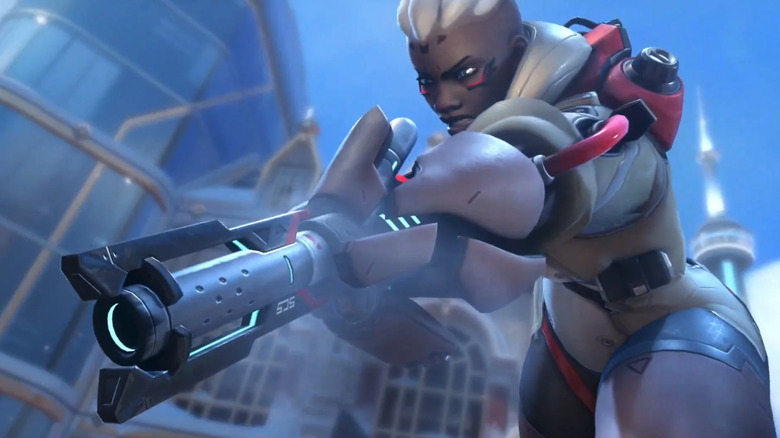 We already knew about Echo, but who is Sojourn? This new hero seems to have been a part of the old Overwatch crew, and is featured in Winston's nostalgic photo of the gang. We didn't learn much about her, other than her robot gun arm, and Kaplan kept mum about more Sojourn news. There will, however, be several new characters coming to Overwatch 2.
Advertisement
We'll keep you up to speed as we learn more.