Call Of Duty: Modern Warfare Allegedly Has 38 More Maps On The Way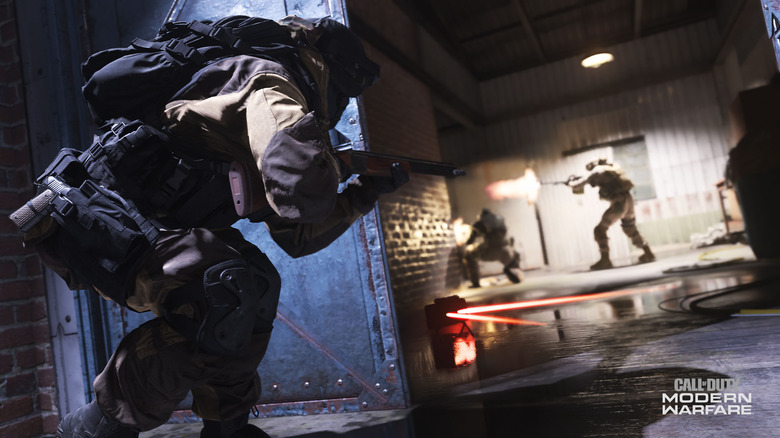 According to an alleged leak, Call of Duty: Modern Warfare players have 38 upcoming maps to look forward to, including old favorites like Shipment and Rust.
Reddit user Senescallo shared the results of a supposed data mine over the weekend, revealing references to a host of new and returning maps. It's unclear how Infinity Ward plans to adapt the older maps to fit Modern Warfare's updated multiplayer. When the maps will start rolling out also remains up in the air; due to the sheer volume, they'll likely release over a period of several months or years. Here's the full breakdown:
Gunfight

Cage (mp_m_cage)
Cargo (mp_m_cargo)
Hook (mp_m_hook)
Exclusion Zone (mp_m_exclusion)
Shoot House (mp_m_speed)

6v6 and 10v10

Aniyah Tac (mp_aniyah_tac)
Crash (mp_crash2)
Dam (mp_dam)
Krovnik Farmland (mp_farms2)
Gulag (mp_gulag)
Hospital (mp_hospital)
Layover (mp_layover)
Lowline (mp_lowline)
Lumber (mp_lumber)
Malyshev (mp_malyshev)
Milbase (mp_millbase)
Oasis (mp_oasis)
Port (mp_port2)
Prison (mp_prison)
Rivne (mp_rivne)
Shipment (mp_shipment)
Shipmight (Day) (mp_shipment_am)
Shipment (Night) (mp_shipment_pm)
Slums (mp_slums)
Stadium (mp_stadium)
Sub Base (mp_subbase_lm)
Super (mp_super)
Urzikstan (mp_syrkistan)
Torez (mp_torez)
Transit (mp_transit)
TV Station (mp_tvstation)
Faridah (mp_faridah)
Rust (mp_rust)
Takedown (mp_takedown)
Borderline (mp_borderline)

Ground War

Smetna Farms (mp_farms2_gw)

Other

Gun Course (mp_t_gun_course)
Marksman Range (mp_t_sn_reflex)
Another dataminer manged to dig up references to new modes, possible DLCs, and cosmetics. According to That1MiningGuy, Modern Warfare players can expect to see an Arena mode, Kill confirmed mode, and CTF mode in the future.
Call of Duty: Modern Warfare has received mostly positive reviews since its release at the end of October. IGN awarded the shooter an 8/10, complimenting its gunplay, intense campaign, and hearty weapon customization system while lamenting the unimpressive launch maps. GamesRadar+ reached a similar conclusion, awarding a less generous 3/5. "Countless seemingly minor issues build up to take away from what is, at its core, the best and most tactical Call of Duty multiplayer in years," concluded reviewer Ford James. 38 new maps could be what the game needs to move from the realm of "good" to "great."