China's New Rules Restrict Kids To 90 Minutes Of Gaming Per Day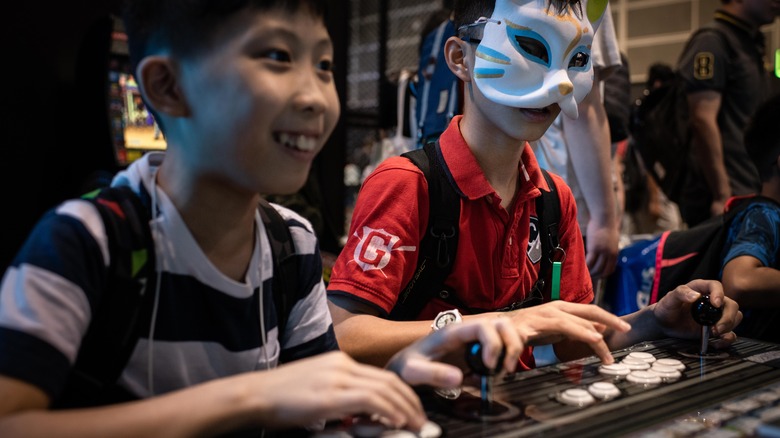 Ivan Abreu/Getty Images
China is enacting brand new rules to help stem what it believes is a video game addiction epidemic.
Announced yesterday by the country's National Press and Publication Administration, the regulations stipulate that children under 18 cannot game for more than 90 minutes per day on weekdays. Children are also restricted from playing between the hours of 10 p.m. and 8 a.m. on weekdays, and must stay within a three-hour limit on weekends and holidays.
What's more: these young gamers are also being told how much they're allowed to spend on microtransactions. China set the cap at $57 per month, which could put a dent in the profits of some games, especially those that are free to play.
According to The New York Times, China points to "a rise in nearsightedness and poor academic performance" as justification for the new rules, which the country hopes will get kids to play less and study more. And if you think there's a bit of dissonance between the Chinese government's stance on video games — it doesn't like them — and the country's investment in gaming, you are not wrong.
China, of course, is the home of Tencent, which has stakes in a number of video game companies, including: Ubisoft; Riot Games; Grinding Gear Games; Epic Games; Bluehole; Paradox Interactive; and Activision Blizzard. And China is a huge, valuable market for many of those companies. Gamers there avidly watch and compete in esports, and play games like League of Legends and an assortment of mobile titles. More importantly, they spend money on cosmetics and other add-ons, which makes this move by China all the more interesting.
How will the Chinese population react to these new rules, and how will gaming companies in China be impacted? We'll have to wait on an answer for both. But as soon as we have an idea of how this will all shake out, we'll let you know.