Play The Elder Scrolls Online For Free This Week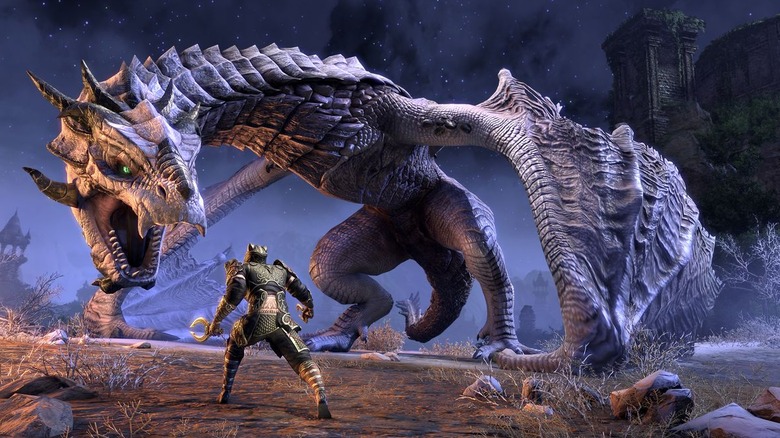 Bethesda has rolled out a steady stream of content for The Elder Scrolls Online since its release in 2014. Those who haven't had the opportunity to sample the MMO over the past five years have the next few days to check it out for free.
Developer ZeniMax Online is currently offering a free trial period for The Elder Scrolls Online. PC, PlayStation 4, and Xbox One users have until November 13 to take advantage of the promotion. Note that playing for free on the Xbox One requires an Xbox Live Gold membership. Once the trial has ended, you'll need to purchase the full version of the game to continue playing with the character you created. To help ease the transition, you can buy the Standard Edition right now for up to 50% off across all platforms.
The Elder Scrolls Online started on precarious footing; however, frequent updates, expansions, and quality of life enhancements have led to steady growth. The game currently boasts 13.5 million registered players and earlier this year ESO creative director Rich Lambert mentioned plans to continue supporting the MMO for years to come, an impressive comeback for a game that sorely disappointed fans at launch. You can have a look at some of the improvements slated to arrive over the next few months on the official blog.
The Elder Scrolls Online's latest DLC game pack, Dragonhold, went live on October 21. The DLC ushered in the culmination of the Season of the Dragon, an expansion that launched in June. Season of the Dragon introduced the necromancer class and a new dragon-centered storyline set in the Elsweyr region. Dragonhold ensured the season went out on a high note, adding a new zone, main story, side quests, dragons, world bosses, rewards, and more.
DLC is free for ESO Plus members or can be purchased with Crowns via the in-game store.