Rumor: There's A Death Stranding DLC On The Way With A Raid Mode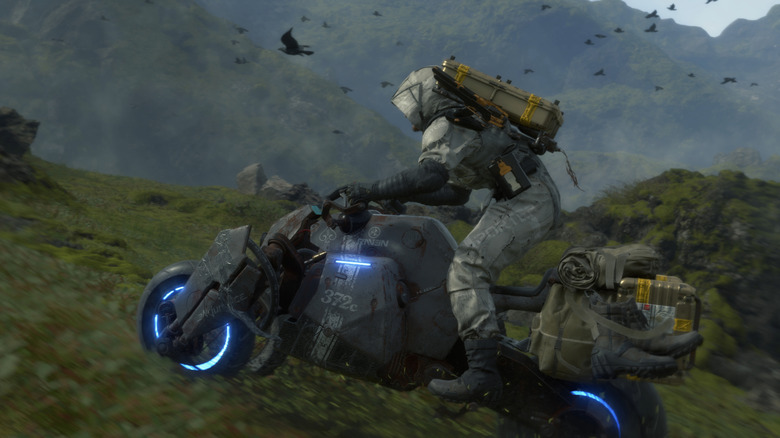 Death Stranding is just now gracing us with its release, and already there are rumors that the game isn't complete. According to a purported leak, summer of 2020 will see the release of a hefty DLC for Death Stranding that will not only complete the story, but also add in a raid mode. The name of this mysterious, unconfirmed DLC is "September-1998."
This information comes from Reddit user okdaydreamer, who claims to have heard it from "a fairly credible source." We should, of course, take everything that this daydreamer has to say with a sizable grain of salt: there are always "leaks" that turn out to be outright hearsay when big, hyped up games are released. However, this week seems to be rife with actual leaks. After all, most of the Galar PokeDex from the upcoming Pokemon Sword and Pokemon Shield games apparently leaked. Nintendo nor Game Freak have given any official word on the matter, but they did cancel a launch event, seeming to confirm the controversy. Could this Death Stranding DLC be another real, actual leak? 
Maybe. We really won't know until we finally untangle Death Stranding's twisted storyline. From there, players can determine if Kojima's story is complete, or if part of the puzzle is missing. The idea of a raid mode is interesting, considering the fact that so far, Death Stranding appears to de-emphasize combat. You should avoid it if you can. 
Okdaydreamer claims that their source said, "expect it to be paid DLC, with no guaranteed price tag." This mythical DLC would be releasing in concert with the PC release of Death Stranding, amounting to a healthy influx of content for new players. This follows with the theory that Death Stranding, being such a strange a divisive title, won't sell well. This is one way to keep the cash flow coming. 
We'll have to wait and see if this is truly a leak or just a bunch of balderdash. Until then, there is plenty of news surrounding the weird and wonderful Death Stranding.