Wattam Gets A December Release Date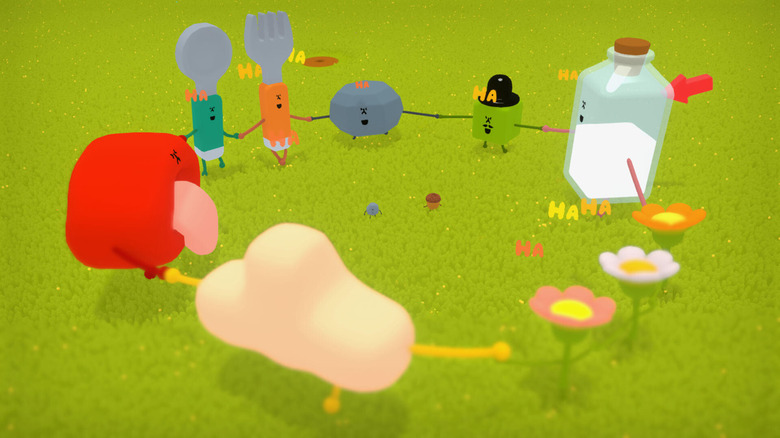 After spending 5 years in development, Wattam, the latest title from the director of Katamari Damacy, finally has a release date.
Similar to Death Stranding, Wattam is a game about connection, though you would never guess the two titles shared a common theme based on their wildly divergent aesthetics. Like Keita Takahashi's previous projects, Wattam is an explosion of color and strange creatures, striking a note somewhere between whimsical and absurd. It boasts more than 100 unlockable characters and explores the cycle of life, allowing you to transform into food and even poop as you help your town's mayor rediscover friendship and his connection to the world itself.
"If we all were the same type of people, the world would get so boring. If all people were Asian, talking the same language, doing the same culture, it may be useful, but I don't think that's nice.The differences make us very rich and deep. But at the same time, there is that divide," Takahashi told PC Gamer. "I just wanted to make a video game where the people in the game are all different, but somehow help and work together and get over the differences, and have fun."
Wattam was first announced in December 2014 before Sony cancelled the project. Undeterred, Takahashi found a new publisher, starting over with Annapurna Interactive. After a long journey, Wattam will finally get to see the light of day, though Steam users still have a bit of a wait ahead of them. Though Annapurna confirmed an eventual Steam release, they declined to share when the game would hit the distribution platform. Given that the Epic Games Store announced it as timed exclusive back in August, Wattam will likely go live on Steam in December 2020.
Wattam comes to PlayStation 4 and PC via the Epic Games Store on December 17. Pre-order the game to receive a cool 15% discount, taking the price from $19.99 to $16.99.