Snag A Free Pokemon Sword And Shield Trainer Outfit This Weekend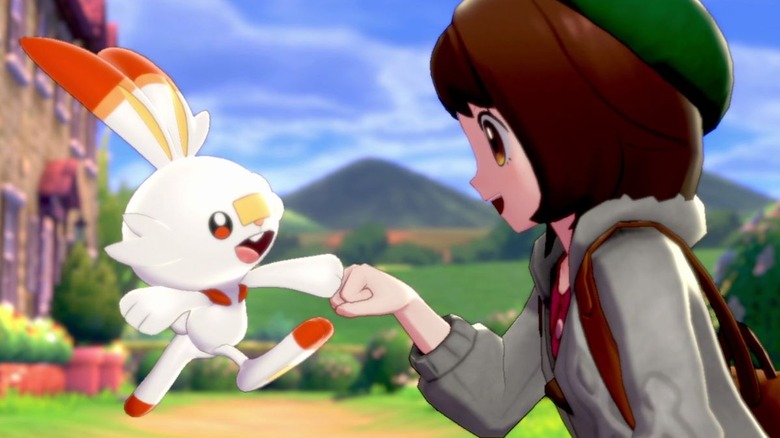 We may receive a commission on purchases made from links.
Pokemon Sword and Pokemon Shield, the latest installments in the popular monster-collecting franchise, release this week. In honor of that launch, The Pokemon Company is offering several bonuses to early adopters, including a unique trainer outfit.
Game owners who visit a participating Walmart location between November 16-25 can pick up an Orange Trainer jumpsuit for free. To get the code, you first need to download the Pokemon Pass onto your smartphone. With the app at the ready, head to Walmart and scan the QR code on display there. Here's a full breakdown of the steps required to unlock this freebie:
Download Pokemon Pass for your mobile device.
Log in with your Pokemon Trainer Club ID, or create an account.
Scan an in-store QR Code to receive a unique code for your Pokemon Sword or Pokemon Shield game.
Launch your copy of Pokemon Sword or Shield
Select "Mystery Gift" from the menu
Select "Get a Mystery Gift"
Select "Get with Code/Password" and follow the prompts
Enter your download code
Visit a boutique fitting room to access the outfit
If you visit Walmart on launch day, you can purchase Pokemon Sword and Shield for $49.94, a $10 savings. Both the discounted price and free trainer outfit are in-store offerings, meaning you'll have to leave the house and travel to a physical Walmart location to take advantage of the deals. All players with an internet connection who buy Pokemon Sword and Shield from any retailer before January 15 can also claim a free Meowth capable of Gigantamaxing from the Mystery Gift menu.
If you'd prefer to give your money to someone other than Walmart, Amazon is handing out a $10 credit to Prime members who pre-order one of the games. Similarly, My Best Buy members will receive a $10 credit and a collectible coin for pre-ordering the double pack.
Pokemon Sword and Shield comes to Nintendo Switch on November 15.