The Witcher 3 Could Be Coming To Xbox Game Pass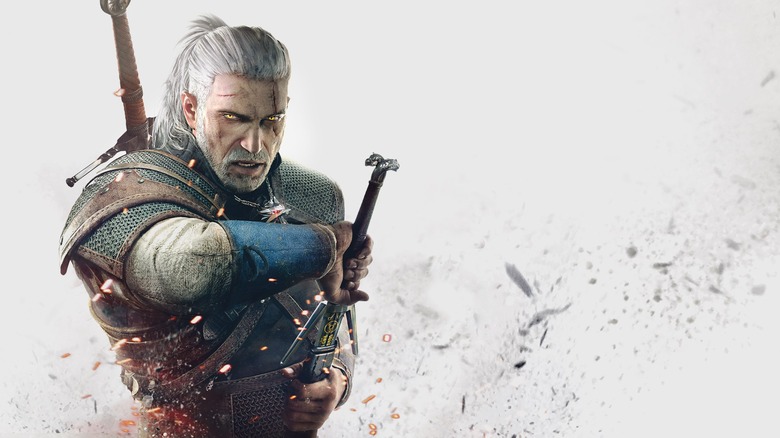 Xbox Game Pass subscribers could be getting a blockbuster new game in the very near future. A Twitch video ad shared on Reddit this morning touts Game Pass and its impressive library of titles. But one of the games shown is actually one that isn't part of the service yet: The Witcher 3.
The Witcher 3 is a sprawling open-world RPG developed by CD Projekt Red, the studio that's now working on Cyberpunk 2077. And in 2015 — the year it released — it took home an ungodly number of accolades. According to Game Revolution, The Witcher 3 collected 251 "Game of the Year" awards in total, surpassing the record set by Naughty Dog's The Last of Us in 2013. With that in mind, you can probably understand why this title potentially making its way to Xbox Game Pass is a big deal.
There's a very good chance this announcement was being saved for Microsoft's X019 fan event, which starts today. So if you had The Witcher 3 on your Xbox Game Pass bingo card for the show, the odds are good that you can fill in that space.
The addition of The Witcher 3 makes a whole lot of sense in the grand scheme. It's an enormously popular game that will generate a lot of buzz for Xbox Game Pass, and could coax more players into subscribing. Not only that, it'll serve as a little bit of cross-promotion for Netflix's The Witcher, a series that is set to kick off on Dec. 20. We wouldn't be surprised if the show gets a mention during X019, should the game be announced for Game Pass today. And who knows: maybe Henry Cavill will come out, Keanu Reeves-style, to deliver the news.
Okay, maybe not. But that would be pretty great, wouldn't it?
We'll be sure to keep you updated on all the latest X019 news as it unfolds.