Dragon Quest Builders 2 Comes To PC In December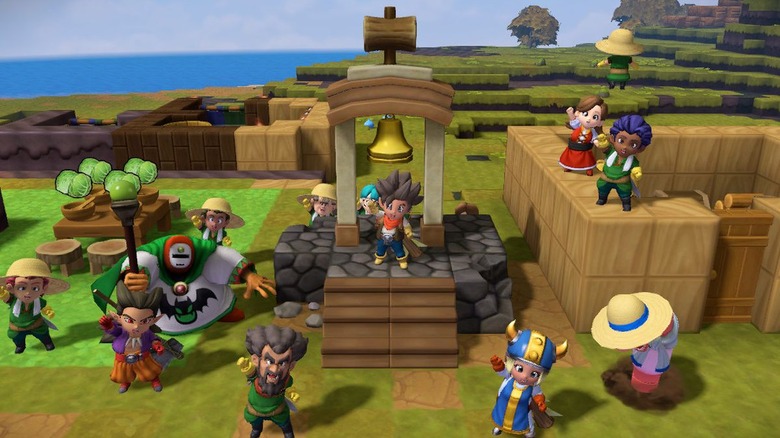 Dragon Quest Builders 2 has been out on the Nintendo Switch and PlayStation 4 for a while now. Finally, at long last, PC players can get in on the action. The block-building, bad guy-bashing game will be available on Steam Dec. 10. 
Think of Dragon Quest Builders 2 as Minecraft but more. Dragon Quest is a traditional JRPG series; you know, the kind with turn-based combat and ever-changing parties. The Builders titles add on another layer of adventure by allowing players to create, cook, and build. No worries if you haven't played previous Dragon Quest games, or even the first Dragon Quest Builders: Dragon Quest Builders 2 has its own standalone story that seeks to satisfy longtime players and newcomers alike. 
The trailer for the PC port shows off exactly how creative builders can be in the game. As in Minecraft, players can let their imaginations go wild and build just about anything their hearts desire. The trailer shows the process of building a PC, monitor, and even a matching keyboard. The world is your sandbox when you're not focused in on the game's story. There are plenty of places to explore and foes to vanquish, but it is entirely up to the individual player what they most want to focus on: building or bullying baddies? 
And fans of Dragon Ball or Dragon Ball Z will find that there is something eerily familiar about the characters in the game. The creator of Goku and the gang, Akira Toriyama, lent his character design skills to the production of the original Dragon Quest titles, giving the games a distinctly anime look and feel. 
Want to give it a try? PC players won't have to worry about slowly gathering up all the stuff that Switch and PlayStation players have through a Season Pass: all this and the Hotto Stuff Pack, Aquarium Pack, and Modernist Pack add-ons are included in the PC port. Pre-purchasing will also give players some bonus in-game recipes.
Dragon Quest Builders 2 is now available for pre-purchase on Steam and will launch Dec. 10.