Ubisoft And Tencent Working To Bring Rainbow Six: Siege To China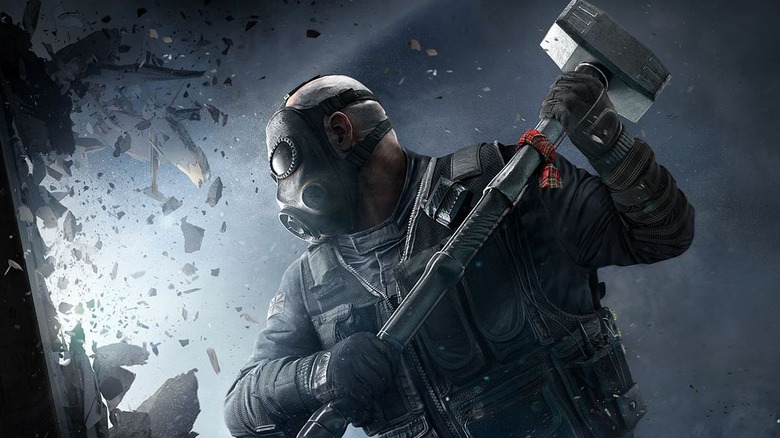 Ubisoft and Tencent have teamed up to bring Rainbow Six: Siege to China. The popular multiplayer FPS currently does not meet the country's strict publishing regulations.
Many titles lost access to the massive Chinese gaming market when the government banned virtual representations of corpses and pools of blood. In the past, the more graphic franchises could circumvent China's standards by changing the color of blood from red to black. The latest regulations cracked down on these workarounds, forcing developers to omit the gore and other elements or lose their distribution in the area.
Towards the end of 2018, Ubisoft announced plans to alter aspects of Rainbow Six: Siege's aesthetics to conform to China's censorship requirements. These changes included removing environmental blood spatter, sexual content, skull imagery, and representations of gambling. This decision did not go over well with the community and, not three weeks later, the team broke beneath the pressure and reverted the game back to its original aesthetics.
Despite player criticism, Ubisoft remains intent on expanding into Asia. "Right now, I'm most excited about our plans for China," said Ubisoft's EMEA esport director Francois-Xavier Deniele. "China, it's something very important for me, and for Siege. I'm working a lot of the introduction of China at this point, because when it happens it's going to be a huge step that changes not just for the state of the game, but also for the esports scene, because there's such a huge market."
Tencent and Ubisoft will proceed with their plans once they receive approval from the Chinese government. What this means for Rainbow Six: Siege players in other countries remains unclear. The developers previously expressed the desire to maintain a single, global version of the game to streamline production time. According to Deniele, the team is searching for the best approach to preserve the game's legacy while adapting it for the new market.
"We need to be careful to not destroy everything we are doing with Rainbow Six: Siege along the way [to bringing the game to China], so a lot of all of our jobs right now is working on how we will get the Chinese market into the scene, not just for the game, but also into our esports plans."