Need For Speed: Heat Is Reportedly Pretty Hot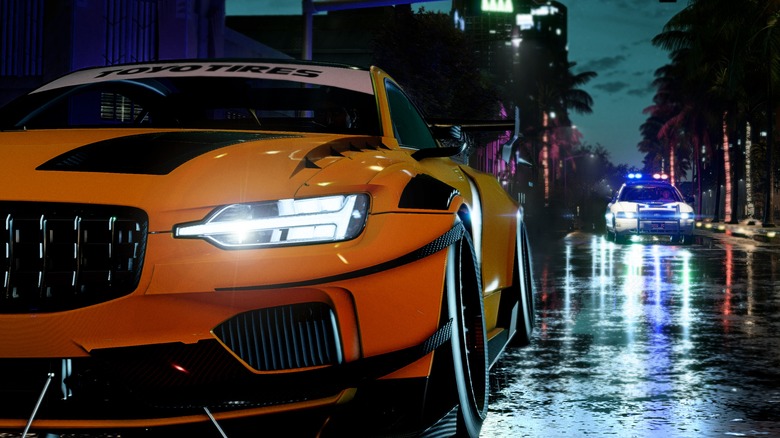 Need for Speed: Heat's release date certainly didn't do it any favors. It launched on Nov. 8 — the same day as Death Stranding. Nonetheless, the latest street racing title from Ghost Games and EA has managed to become the most-played Need for Speed game in years.
"#NFSHeat set a new record during the first week with more of you playing this game than any other NFS title this generation," wrote the game's official Twitter account. "Thanks to our community for bringing the Heat!"
The Need for Speed franchise isn't quite as popular as it was in decades past. Does anyone remember all of the hype around Need for Speed 3: Hot Pursuit? Back then, defying the law was more of a rarity in racing titles. Speeding down the freeway with red and blue lights trailing made you feel like a legit criminal. And nothing was more satisfying then maneuvering your way around some spike strips. We'll just drive off to the side, thank you very much.
These days, however, there are games that do it bigger and better. We live in the world of Grand Theft Auto, where you can outrun a police chase, scramble to the top of a skyscraper, and continue your escape in a helicopter. Still, Need for Speed has its core fans, and to them, Heat is more of what they love about the series and what it brings to the world of racing games.
"While Need for Speed Heat feels a little more like a mosaic of existing concepts rather than something especially trendsetting, Ghost has certainly scraped these ideas from some of the most-loved games in the now 25-year-old series," said IGN in its review.
It sure sounds like Heat is a love letter to Need for Speed fans; many of whom are apparently playing the game already. If you're one who isn't yet, you might want to take it for a spin.