Rayman: Legends Joins Epic's Free Games Collection Next Week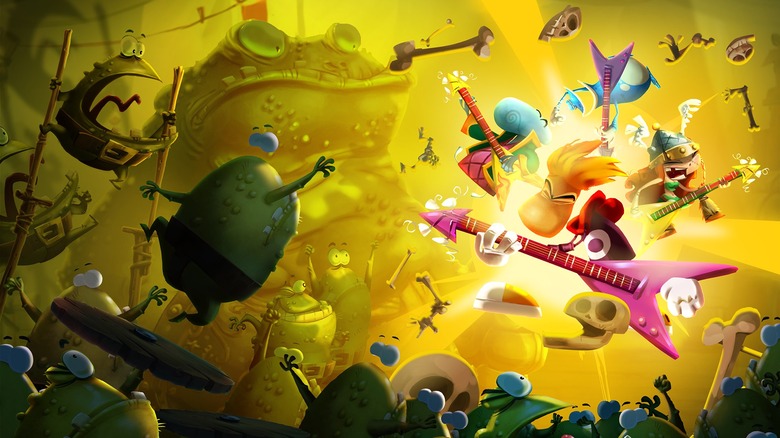 Epic Games Store users can download Rayman: Legends for free starting next week.
Rayman: Legends is the fifth installment in the classic Rayman franchise. A direct sequel to Rayman: Origins, Legends lets you and up to three friends make your way across a series of 2D levels as Rayman, Globox, the Teensies, and new character Barbara and her sisters once your rescue them. Murfy also appears as an assist character on certain stages.
As Rayman and company, you'll maneuver through 120 levels inspired by real-world myths and tropes, including 40 remastered levels from Rayman: Origins. You can also take on daily and weekly challenges to compete against other players on global leaderboards. The higher your "awesomeness" rating, the more challenge stages you'll have access to. Timing and rhythm are key in both the main campaign and online challenges which Ubisoft has set to a rockin' lineup of original and licensed musical tracks.
Rayman: Legends first launched in 2013 to strong reviews from critics and players. "This beautifully animated co-op game tosses dozens of inventive ideas into the mix, proving there's still room for exciting creativity in the platforming genre," wrote IGN's Jose Otero. "Naturally, Rayman starts out with simple running, jumping, and punching, but before you know it you're sneaking past dozens of deadly traps, battling huge bosses, or playing through awesome challenge levels that look like '90s music videos. Every time I thought I found a personal favorite stage, the next one came along and replaced it."
Rayman: Legends will replace Bad North: Jotunn Edition as the Epic Games Store's free weekly offering on November 29, giving you a week to snag the Viking-inspired real-time tactics roguelite. All games downloaded as part of the Free Games Collection remain yours forever, so, get them while you can.