Fortnite: Chapter 2 Kicks Off Fishing Frenzy Competition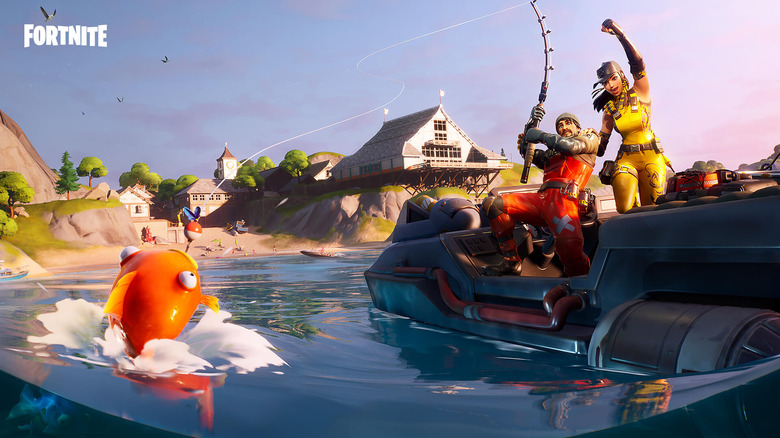 A new competition has arrived in Fortnite today: the Fishing Frenzy competition. Players have between now and 8 p.m. ET on Nov. 25 to compete in and win as many categories as possible. All they need to do is get out their Fishing Rods.
Each of the categories for Fishing Frenzy requires players to go fishing; it's as simple as that. As long as you use a Fishing Rod this weekend, you'll have a chance to win one of six prizes.
Players can even win an item without trying to compete in two of the categories. Simply fishing during a match while the competition is active will earn you the Play to Win spray. If, however, you do fancy trying your hand at fishing, catching the Mythic Goldfish item will earn you the Bottom Dweller pickaxe.
For this weekend only, it's also possible to pick up the Triggerfish Fortnite skin, an anthropomorphic goldfish that looks like it means business.
What are the categories and what do you win?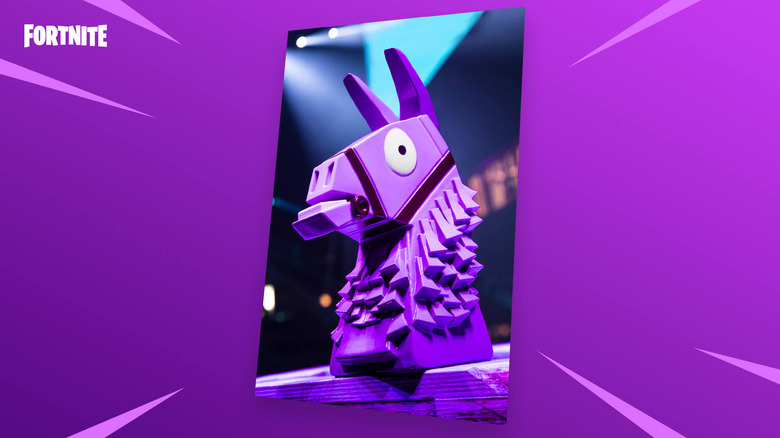 Thinking about taking part in the Fishing Frenzy competition? We've listed out the categories below. There can only be one winner per regional server. Maybe that winner will be you.
1) Top Angler
In a single match during the competition, catch the most fish 
Prize: Engraved Llama Trophy
2) Small Fry Champion
Be the player to catch the most Small Fry during the competition
Prize: Engraved Llama Trophy
3) Flopper Champion
Be the player to catch the most Floppers during the competition
Prize: Engraved Llama Trophy
4) Slurpfish champion
Be the player to catch the most Slurpfish during the competition 
Prize: Engraved Llama Trophy
One more note: If you think that catching fish with a Harpoon Gun will count in Fishing Frenzy, you're wrong. Get your Fishing Rod out and do it the old fashioned way.
Here's how to fish in Fortnite: Chapter 2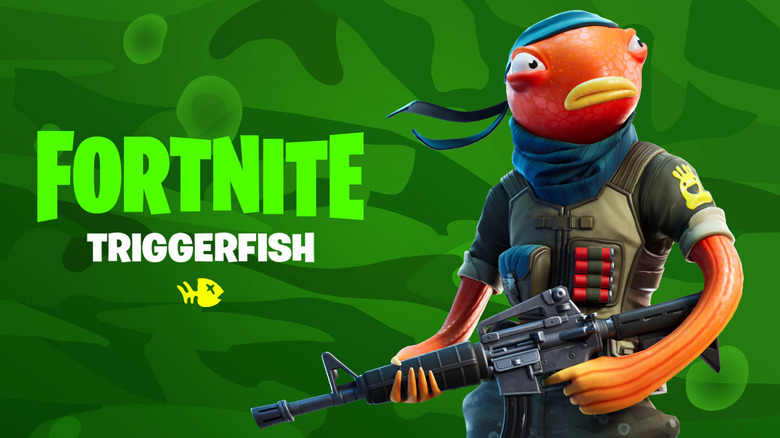 Fishing in Fortnite is pretty similar to fishing in real life; it takes a lot of time, it's wet, and it's always disappointing when you struggle with a catch and find out it's just a Small Fry. However, there is a little more to it than just pulling out a Fishing Rod near a body of water.
Fishing Rods need to be found in each match in Fortnite: either from floor spawns in the world, chests, or empty barrels like the one often found near Steamy Stacks. These barrels are the best option for groups, since they hold more than one Fishing Rod. 
And fishing in Fortnite can be a dangerous activity. Standing still for so long leaves you open to being killed, either by another player, or by the map itself as the storm closes in. It's important to monitor your surroundings as you fish, and keep an eye out for anyone who might mean you harm. 
Hopefully, if other players are trying to compete in Fishing Frenzy, they'll spend more time fishing than actually trying to win the match. You never know; this could be the most peaceful weekend Fortnite has ever seen.