Fortnite: Chapter 2 Hide And Seek Mission Challenges, Hidden 'I' Location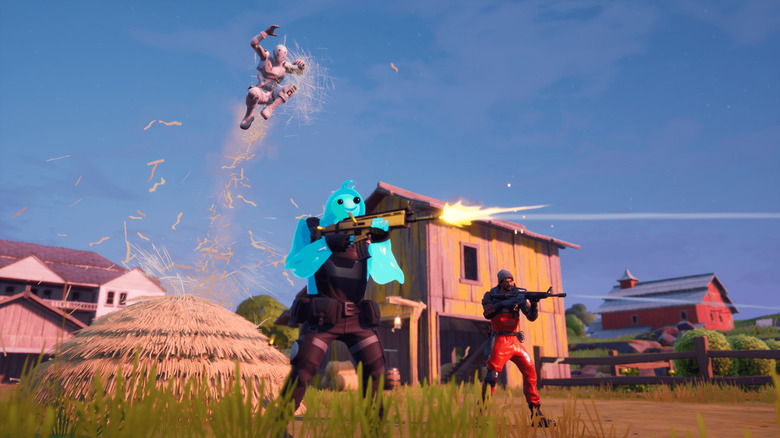 Thursday has once again given us a brand new Fortnite: Chapter 2 Mission. This one is called Hide and Seek, and like every other Mission, its challenges will have you scurrying across the map to visit locations, collect resources, and damage (or eliminate) opponents.
Here's what you'll be sent out to do in the Hide and Seek Mission, according to the folks at r/Fortnite:
Land at Frenzy Farms, Slurpy Swamp, and Sweaty Sands
Search chests at Pleasant Park or Lazy Lake (7)
Harvest 500 wood, 400 stone, and 300 metal
Consume Foraged items (10)
Eliminate opponents at Frenzy Farm or Sweaty Sands (3)
Deal damage to opponents with Pickaxes (100)
Hit opponents with headshots (10)
Hit 5 consecutive weak points while harvesting materials
Visit Landmarks in a single match (5)
Eliminate opponents in different matches (5)
Search for the hidden "I" found in the Hide and Seek Loading Screen
Someone must have had a sit-down with the developers at Epic Games, because these challenges are some of the more reasonable ones we've seen. A challenge for landing in certain areas, also paired with a challenge for eliminating opponents in those areas? How did we ever get so lucky?
The trickiest challenge here might be the one that asks you to deal damage with your pickaxe. That's going to require you to be stealthy in your approach. It's also going to require a bit of luck, because an opponent is likely going to shotgun your face off if they turn around and see you. Hopefully the stars align and you can get a few swings in before you're killed.
As for that letter "I" that's tucked away on the map: it's not that tough to find. Drop down into the Frenzy Farms area, enter the big red barn just north, and head up two flights of stairs. The letter "I" can be found near the western side of the barn. If you get lost, fear not: we've embedded a video below (courtesy of YouTuber InTheLittleWood) that'll get you where you need to go.
And that's it! Be sure to point your browsers back here next week for details on the latest Fortnite: Chapter 2 Mission.