Cyberpunk 2077 Might Feature An Elon Musk Cybertruck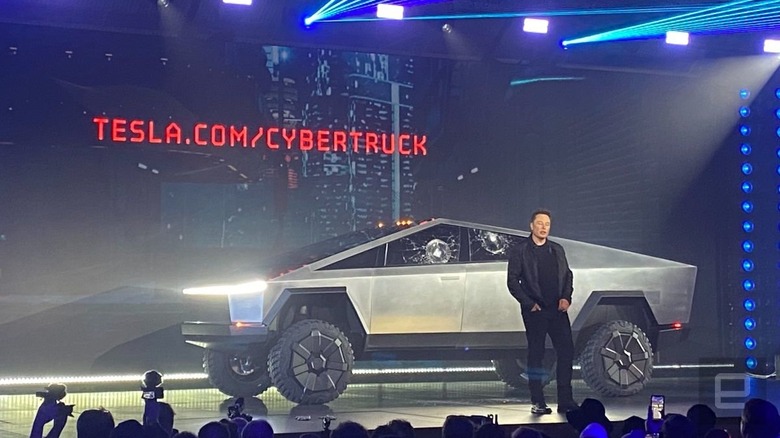 Tesla's latest vehicle looks like it belongs in an 80s-inspired dystopian game and after today's exchange between Tesla CEO Elon Musk and CD Projekt Red, it just might be featured in one. Will the Cybertruck be in Cyberpunk 2077?
Today, Elon Musk tweeted "Nobody *expects* the Cybertruck," to which the official Cyberpunk 2077 account replied "We had a deal, Elon" complete with side-eye emoji. Fans immediately started to theorize that this purported "deal" is that the fittingly-named Cybertruck will be somewhere in the upcoming open world, action-adventure RPG Cyberpunk 2077, which is all about cutting-edge tech. What's more bleeding edge than this strange, ultra-futuristic truck? 
Seriously, this truck sounds like it's designed for a violent, dystopian future rather than today's commute. It boasts a stainless steel body that can withstand sledgehammers and, allegedly, bullets from small firearms. It can handle off-roading like a dream with specially designed wheels that would make a Jeep blanch. Oh, and you can fit and charge an ATV in the covered bed. It also looks like Tesla pulled its blocky design from an anime or maybe a PlayStation 1 game. 
As if to confirm this alleged collaboration, Musk replied "See ya in 2077" to the CD Projekt Red tweet. It's no secret that Elon Musk is a gamer, having an ardent admiration for NiER: Automata's 2B that got him in some hot water with fans earlier this year. We don't know for sure if his tweets were just cheeky banter or a hint at something we'll find when Cyberpunk 2077 releases. There were plenty of celebrity cameos in Hideo Kojima's Death Stranding this year, so we can allow Cyberpunk 2077 to have a few of its own next year.