Gris Is Coming To PS4 (And 4K) Next Week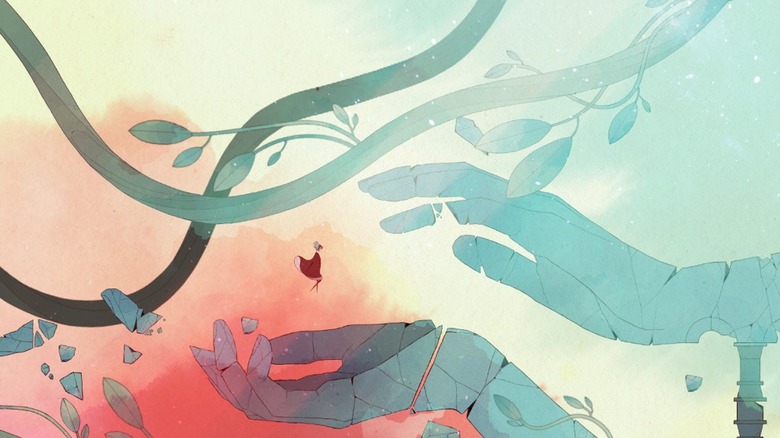 Last year, indie darling Gris captivated the gaming industry. Lovingly crafted by small, Spanish studio Nomada, the painterly platformer impressed PC, Mac, Switch, and iOS players. Now, PlayStation users will get their turn to enjoy the gorgeous if melancholy game on Nov. 26.
What's the big deal? According to Nomada Studio's Roger Mendoza, the developers have optimized Gris for the PS4, including updated art assets that make the most out of the platform's higher resolution. "Our artists and designers went over the game in meticulous detail, updating each of the game's beautiful scenarios. The art team revamped over five thousand unique assets to 2x – 4x higher resolution to take advantage of the PS4 Pro and 4K displays," Mendoza explained on the PlayStation Blog.
Oh, and the music will be "cleaner and brighter." Basically, Nomada Studio has made Gris better than ever just for the PlayStation 4. Mendoza goes on to say they feel honored to have their game on the same platform as Journey, the exploratory game that clearly inspired Gris. With this in mind, Nomada revealed the inclusion of a PS4-exclusive Easter egg and homage to Journey somewhere in the game. "We hope that players find a similar level of emotional engagement with Gris and see how the iconic Journey influenced the design and feeling of Gris." Keep your eyes peeled for that secret callback, PS4 players. 
Recently, self-care app Fabulous added an "homage" to Gris publisher Devolver Digital said was a blatant ripoff. The animation featured in the app had the same floaty dress movements as Gris, copied almost frame-by-frame. The designer from Fabulous, who stayed anonymous, later apologized. "I took the word 'inspired' way too far. As a content creator, I am ashamed that I ended up copying someone else's hard work, and believe me this is the first time that I know of this has happened to me."
Gris, inspired by Journey but 100% original, will be out for Playstation 4 on Nov 26.