Battleborn Removed From Stores Ahead Of January 2021 Shutdown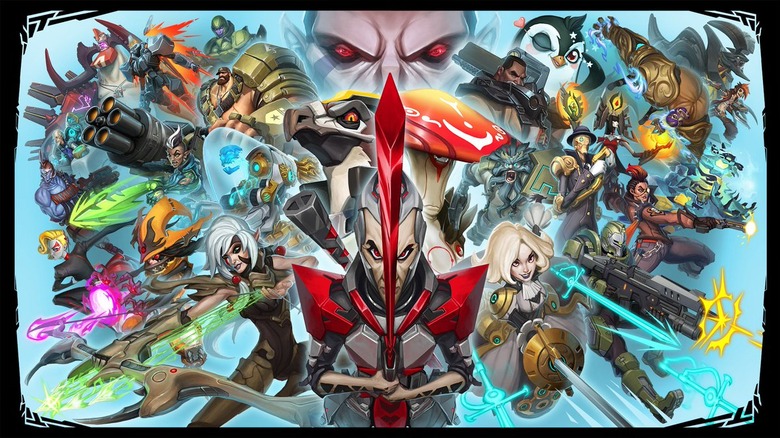 Publisher 2K has announced plans to shut down the Battleborn servers for good at the start of 2021, giving users a little over a year to experience Gearbox's hero shooter. In anticipation of the closure, 2K removed Battleborn from digital stores. 
Starting February 24, 2020, you will no longer have the option to purchase premium virtual currency ("Platinum") for in-game use. You can still spend any remaining Platinum on your account, along with coins earned through gameplay, but 2K will not allow you to buy Platinum directly after the cutoff date. Beyond the Platinum restriction, nothing in Battleborn will change until the servers go offline in January 2021. Once that happens, all players will lose access to both the solo campaign and multiplayer mode.
Tales of server shutdowns have grown all too common in the gaming industry. Earlier this month, Behaviour Interactive announced the end of development for Deathgarden: Bloodharvest, their asymmetrical survival game. Similar to Deathgarden, Battleborn never found its audience after launching in February 2016. Though Gearbox tried to cash in on the hero shooter craze spawned by the Overwatch beta, Battleborn's bugs and balance issues kept it from catching on. Its striking visuals and crazy lineup of characters couldn't save it from obscurity.
Though Battleborn maintained a small, loyal fanbase for years, most players left the game for dead in the months following its release. With this in mind, 2K's announcement does not come as a surprise. Despite its tepid reception, art director Scott Kester swears Battleborn made an invaluable contribution to the success and quality of Borderlands 3.
"By the grace of the beautiful 2K they allowed us to say, 'Hey, we want to try this Battleborn thing, we just want to kind of reset our palette, we're gonna try this thing'. And we did it and... you know, if we didn't make that game Borderlands 3 wouldn't be as good as it is now," said Kester. "It made us think about things a little different."