Sony Exec Takes A Subtle Swipe At Xbox Boss Over VR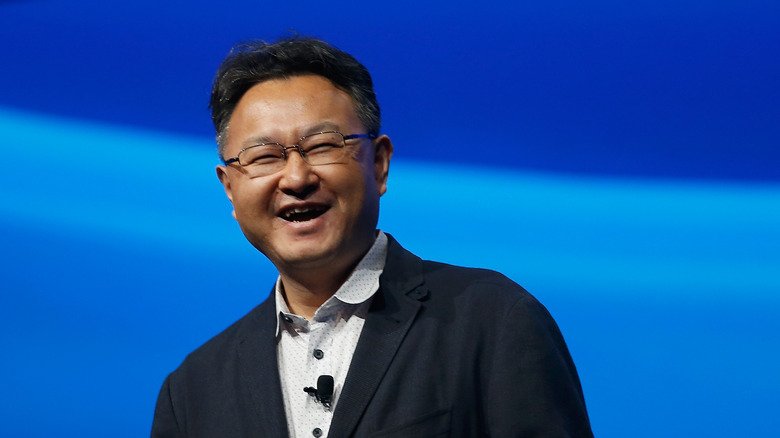 Christian Petersen/Getty Images
We're a long way from the console war heyday of the 90s, so it's especially notable when an executive from one platform holder — how do we say it — throws some shade at another. Nonetheless, that appears to be exactly what Sony's Shuhei Yoshida did in response to comments made by Xbox head Phil Spencer about VR.
In an interview with the website Stevivor, the subject of virtual reality came up, and Spencer explained why Team Xbox hasn't really shown an interest in the technology.
"I have some issues with VR — it's isolating and I think of games as a communal, kind of together experience," Spencer said. "We're responding to what our customers are asking for and... nobody's asking for VR."
Henry Ford and the faster horse aside, Spencer did say that customers can look to PC "if they want a VR experience," and as far as business strategy goes, Microsoft does still win if someone buys a Windows PC to use for VR. So we kind of see where he's coming from.
Regardless, Sony's Shuhei Yoshida — who now oversees an initiative dedicated to helping indie developers at PlayStation — couldn't help but respond.
(´-`).。oO(we oftentimes work hard to make things that no customers are asking for them)

— Shuhei Yoshida (@yosp) November 26, 2019
As you can see, that seems like a slightly veiled shot at what Phil Spencer said during his interview.
The question is, are either of them wrong?
Microsoft currently develops and maintains an ecosystem that supports quite a few VR applications: Windows. It just hasn't extended that same support to the Xbox family of consoles because it doesn't think the demand is there. Sony, on the other hand, is taking a more Jobs-ish approach by saying, essentially, many customers don't know what they want until you put it in front of them. It took a gamble developing PlayStation VR, and clearly, the company thinks that gamble paid off.
We'll have to wait and see how the next-gen consoles fare before we can make a call on this one. If Project Scarlett is successful despite its lack of VR, Spencer's point will be proven. If the PlayStation 5 is an enormous hit because of PlayStation VR, Yoshida wins the point.
Spencer vs. Yoshida. See you in November/December 2020.