Leaked PS5 Dev Kit May Offer First Look At DualShock 5 Controller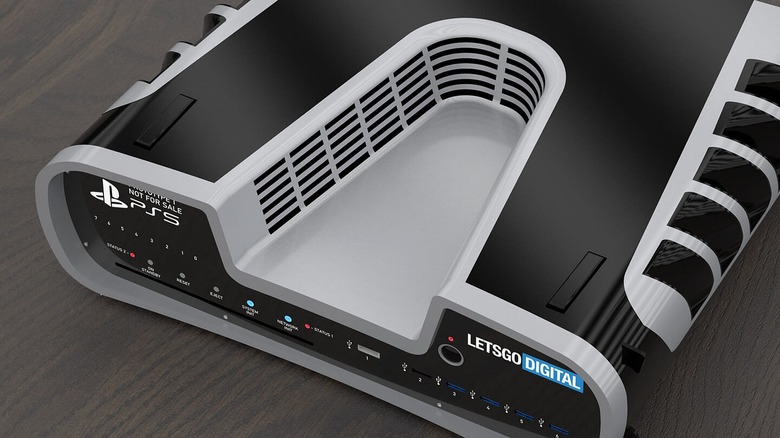 Let's Go Digital
A photo depicting two PlayStation 5 dev kits has turned up on Twitter. The dev kits match the design included with a patent filed by Sony earlier in the year, as well as another leaked image that circulated back in October.
Twitter user @Alcoholikaust shared an image showing two PlayStation 5 dev kits side-by-side and two PlayStation controllers along with the caption "PS5 anyone?" According to the comments, the photo came from a developer, though it's unclear how it ended up in Alcoholikaust's possession.
The Verge senior editor Tom Warren took to Twitter to confirm Alcoholikaust's claim. "yes, this is the PlayStation 5 devkit," wrote Warren. "The reason it's large and v-shaped is to make them more easily stackable for devs who are running multiple stress tests. The cooling is optimized to push air out of the sides and center."
Those concerned about the PlayStation 5's appearance, which one user likened to a "futuristic AC unit," should bear in mind that dev kits rarely look like the finished project. As Warren pointed out, Sony chose the v-shape to make the dev kits more stackable. If the PlayStation 5 goes the same way as its predecessor, the console will hit shelves with a wildly different appearance. For now, we'll have to settle with the "V-box" and its built-in pizza tray. 
As some fans have pointed out, the controllers shown in the image seem to match another patent filed by Sony, presumably for the DualShock 5. The patent included a number of design changes, such as a USB-C charging point, a built-in microphone at the bottom of the touchpad, larger triggers, and the removal of the lightbar. This seems consistent with the controllers on display, but it's difficult to form a real conclusion based on the quality of the photo.
The PlayStation 5 launches in 2020 during the holiday season.