Gwent Going Offline For Consoles In Summer 2020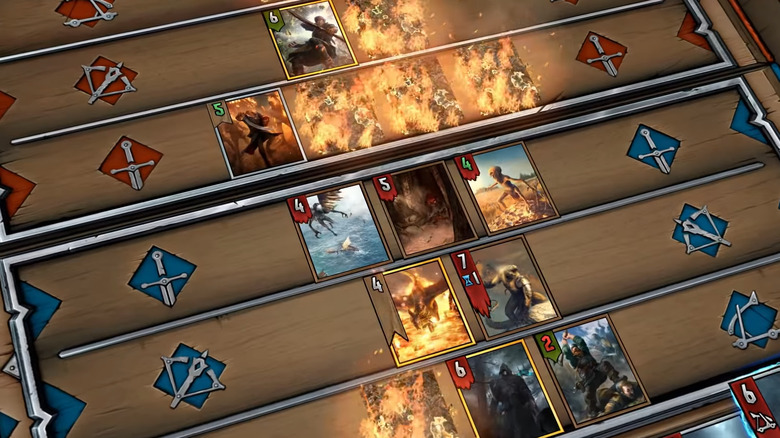 The Witcher 3: Wild Hunt was a juggernaut of a game upon release, and it even spawned its own standalone digital card game: Gwent. Unfortunately, CD Projekt Red announced that it will be discontinuing support for the console versions of Gwent next week, ahead of the complete cancellation of those versions next year.
On Dec. 9, Gwent console players will receive their last update. Afterward, the game will be frozen in time, meaning no more expansions or updates, and matchmaking with other platforms will be impossible. On the same day, CD Projekt Red will launch a website where console players can transfer their progress from the PlayStation 4 or Xbox One account to a GOG account.
The list of items that will transfer can be found below:
Ornaments
Currencies
Cards
Deck lists
Account level
Current rank
Thronebreaker rewards
Contracts
Note that, if you've also been playing Gwent on PC or mobile with a GOG account, you won't be able to add your console progress to that account. And unfortunately, only Xbox One players can transfer their Meteorite Powder. The Gwent website recommends PS4 players to use their Meteorite Powder before transferring their account.
Come June 9, 2020, Gwent on consoles will cease to function, meaning the only ways to play it will be on PC and iOS. An Android version is also coming, although we don't know when quite yet.
If you're holding your breath for a PlayStation 5 or Xbox Scarlett release of Gwent, we don't recommend it. The driving force behind this decision, according to CD Projekt Red, comes down to the number of platforms they can comfortably support. Initially, the studio planned to give consoles the same amount of support as it did for PC. However, after the success Gwent has experienced on PC and mobile, the developer wants to focus on those platforms first and foremost.