Dead Cells Gets First Paid DLC In Early 2020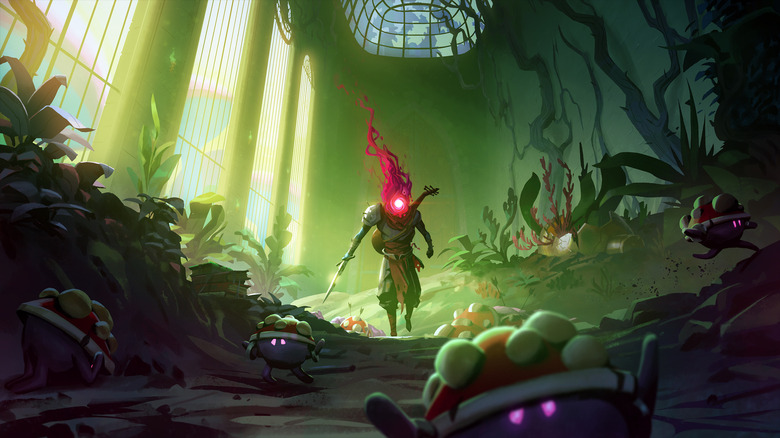 Dead Cells has proven time and again that it's one of the best indie games to hit the mainstream gaming community in a while. With its tight platforming, engaging combat, and beautiful aesthetic, Motion Twin has a hit on its hands, and now the studio is capitalizing on it by announcing the title's first paid DLC: The Bad Seed.
This DLC will add two early-game biomes to Dead Cells, changing the overall path you can take in a playthrough. Additionally, a new boss will be added. Evil Empire, which works with Motion Twin, will be spearheading this content. We don't know much about what it'll look like, but Evil Empire posted a few teaser images of some biomes and a boss in the Steam announcement.
The Bad Seed will cost you $4.99 (or your regional equivalent). If this DLC goes over well, Motion Twin and Evil Empire have up to two more years of content ideas in mind for Dead Cells. The developers explicitly mention that these ideas will come in form of free updates after the DLC launches. The money they make from The Bad Seed, however, will go back into Dead Cells while also funding Motion Twin's future projects.
It's worth noting that The Bad Seed isn't the first DLC we've seen for Dead Cells. The developers were kind enough to release Rise of the Giant in March 2019 at no cost to the consumer. The Bad Seed looks to be similar in scale, but it will also lay the foundation for some major changes down the line. Evil Empire detailed a roadmap that hints at two-handed weapons, new monster designs, and more secret areas with lore.
Additionally, keep an eye out for another Dead Cells update in the coming weeks. The studios teased an exciting holiday-season update they didn't plan to do, but they're implementing it "because it's cool."
You can wishlist the DLC on Steam here to stay posted on a release date.