Control Was Announced For Xbox Game Pass In The Strangest Way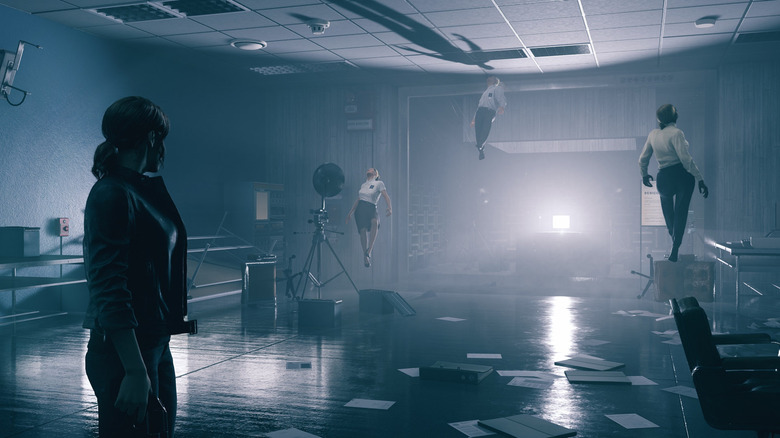 Update: The official Control Twitter account had a little something to say about the game potentially coming to Game Pass.
The information about Control coming to Xbox Game Pass as reported on a recent Mixer stream is incorrect. We have no news or announcements regarding Xbox Game Pass at this time.

— Control (@ControlRemedy) December 5, 2019
On top of that, Microsoft issued its own statement regarding the news.
"We're aware that 'Control' was mentioned as coming to the Xbox Game Pass library and can confirm this was in error," the statement read. "While we are always updating the library and looking for new ways to provide our members with value and choice in their games, we do not have plans to bring 'Control' to the library at this time."
You can take both of these to mean that Control isn't coming to Game Pass... right now. We still think something is up here, as it seems unlikely Phil Spencer would've gotten it that wrong. Maybe we'll hear something more at the Game Awards.
Our original reporting follows.
–
Did Phil Spencer accidentally leak some Game Pass news? That's the question many are asking after the Xbox boss recently appeared on an Extra Life charity stream. Most assumed Spencer would talk generally about the future of Xbox, and that nothing revelatory would come from his time on the broadcast. That all changed, however, when Spencer mentioned that Remedy's Control was coming to Xbox Game Pass.
"I thought Control was really good," Spencer said when asked about some of his favorite games from the past year. "It didn't reach enough people, so I'm glad to see that it's coming to Game Pass so hopefully more people will play it."
You don't say?
Looks like Control is going to Gamepass soon. pic.twitter.com/t1coTzupnl

— Dirt (@Griggity) December 5, 2019
We just got a list of the new titles coming to Xbox Game Pass in December, and we can assure you that Control is definitely not on the list. So it's possible Spencer might have jumped the gun here by announcing this one prematurely. Of course, he could've also been saving this one announcement specifically for the Extra Life stream, perhaps hoping the news would give the charity stream some extra juice. But as nice as that would be, you have to admit: it'd be far more funny if he simply mentioned something he shouldn't have.
Control released on Aug. 27, 2019 to critical acclaim, but some question how commercially successful the title was. The game was discounted on multiple storefronts rather quickly, and during Black Friday, Control was able to be purchased for just $42. Hopefully the title will find new life on Game Pass; it's a game of the year contender, after all. It deserves that wider audience.
We're not quite sure when we should expect Control to drop into Game Pass, but we'll definitely be on the lookout for a date. Should one pop up, we'll be sure to update you.