Untitled Goose Game Is Waddling Onto Xbox One And PS4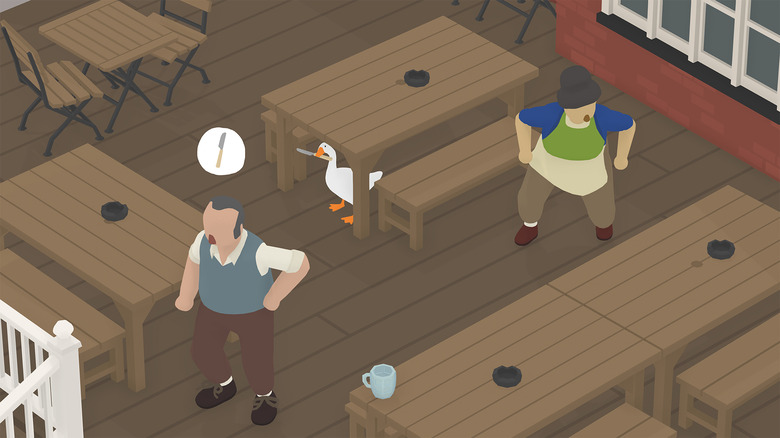 Video games are one of the most powerful forms of art because of their interactivity. One day, we can put on a green tunic and save Hyrule, and the next can don some Doom marine armor while laying waste to some demons. It's because of video games we can live out our fantasies of being an evil goose who steals stuff from people. If that's up your alley, then we're happy to report that it looks like Untitled Goose Game is making its way to Xbox One and PlayStation 4.
When Untitled Goose Game first launched, it came out only on the Nintendo Switch and PC (via the Epic Games Store). Other platforms were left in the dark, unenlightened to the ways of the honk. That might change soon, thanks to something unearthed by TrueAchievements, a site that scours MIcrosoft's servers for Achievement data. They found an Achievement list for Untitled Goose Game, and the data claims that it will launch on Dec. 17. A similar list has been unearthed over at Exophase, but this one showcases all the PS4 Trophies.
You can expect the Xbox One release of Untitled Goose Game to be Xbox One X Enhanced, so you can see all the action in glorious 4K UHD. Even better, the download only takes up a little less than 1 gigabyte of space on your hard drive. At the time of writing, we can't confirm the same for the PS4 release.
It's no surprise that this mean-spirited goose is taking flight to other platforms. It always needs more people to terrorize, after all. Beyond that, Untitled Goose Game has been received fairly favorably by critics and fans alike. As you'd expect of a game with a dedicated honk button, it also spawned a litany of memes, most of which focus on how much suffering this goose causes. Oh, and there are some Untitled Goose Game socks on the way, too.
We should learn soon if Untitled Goose Game will actually release for Xbox One and PlayStation 4 on Dec. 17, so stay tuned.