GTA Online Will Get A New High-Stakes Heist Very Soon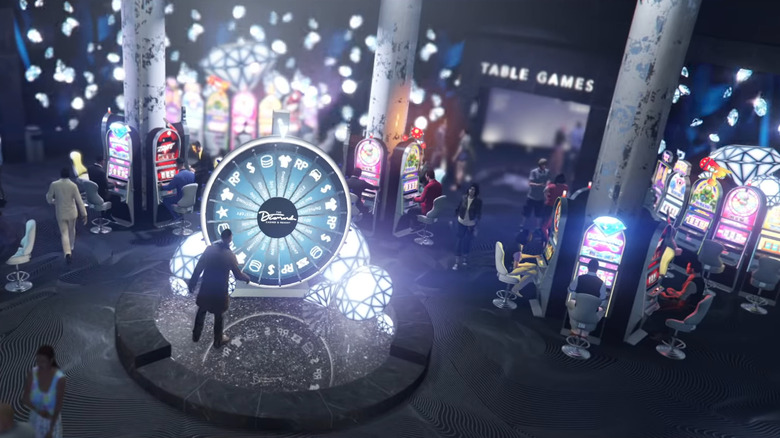 Back in July, Rockstar Games added a full-fledged casino to GTA Online. The Diamond Casino & Resort let high-rolling players live out their most expensive fantasies of winning it big, and the decadent penthouse really lets you flex all that cash you earned from the casino. With all that money flowing through the casino, it's high time someone robbed the place for all it's worth. Luckily, Rockstar was thinking the exact same thing.
On Dec. 12, GTA Online players will be able to access The Diamond Casino Heist, and the name of it alone sounds like it'll make you rich. The end goal of the heist is to reach the vault within the casino to steal everything inside. Oh, and you'll be pulling a fast one over the corrupt Duggan crime family, so you're sort of like Robin Hood, in a way.
This isn't your run-of-the-mill heist, either. Rockstar decided to take a more in-depth approach this time around, offering GTA Online players more choice than ever before. You'll work with the Cheng family, and they offer all sorts of pre-heist missions that will create different opportunities once you're inside. Essentially, your prep work will have a meaningful impact on the heist, and everyone's choices can be a little different.
During The Diamond Casino Heist, more choices will appear than ever before. Security measures always change, but you'll have so many options at your disposal that you'll always find a way to work around it. Essentially, Rockstar wanted this to be one of the most replayable heists in the game.
To pull off the heist, you'll also need a new business front to trick the Duggan family. Who would suspect a retro arcade of being a facade for criminal activity? Not the Duggan family, that's who. You'll plan one of the grandest heists ever beneath an arcade that you own, which might be one of the coolest things GTA Online has done. So get your quarters ready for Dec. 12, when The Diamond Casino Heist drops.