The Witcher 3's Geralt And Ciri Control Giant Robots In Daemon X Machina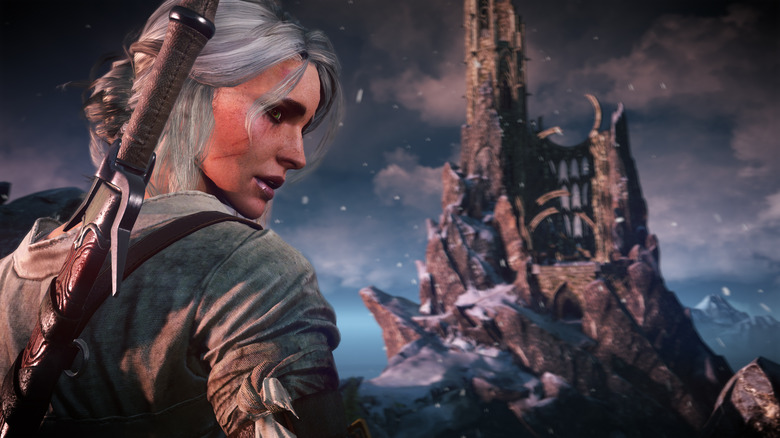 CD Projekt Red may be preparing for the anticipated release of Cyberpunk 2077, but somehow, The Witcher 3 still can't stay out of the headlines. Daemon X Machina, the third-person mech action game exclusive to the Nintendo Switch, has added Geralt of Rivia and Ciri to the roster of available pilots.
Advertisement
For context, Daemon X Machina came out in September 2019 to unfortunately middling reviews. The game was spearheaded by Kenichiro Tsukuda, who worked on the Armored Core series, and lets players control gigantic mechs in epic mech fights. The avatar piloting these mechs can be customized, so players can look however they want. That's where Geralt and Ciri come in.
As of Dec. 5, you can download some free DLC that lets your pilot look exactly like Geralt or Ciri. They don't even don appropriately futuristic, sci-fi clothing, so they look hilariously out of place with the mech battles and crumbling apartment buildings. You can check out a Japanese trailer of them in action here.
Geralt has made guest appearances in other games before, particularly Japanese-developed one. He's been a full-fledged guest fighter in Soulcalibur 6 since the fighting game launched. Capcom seems to like The Witcher as well, since both Geralt and Ciri have been in Monster Hunter: World, a series that often collaborates with other franchises.
Advertisement
At least with both of those games, there's some semblance of logic. Soulcalibur pits weapon-wielding fighters against one another, and Geralt happens to be an excellent swordsman. Additionally, Geralt is a literal monster hunter. He gets paid to slay monsters, so a Monster Hunter: World crossover isn't out of the question. The giant mechs of Daemon X Machina, though? It's definitely unexpected.
Between this collaboration and The Witcher Netflix series, which debuts Dec. 20, it doesn't seem like Geralt will fade from our collective memories any time soon.