Nintendo Announces An Indie World Showcase For Same Day As Sony's State Of Play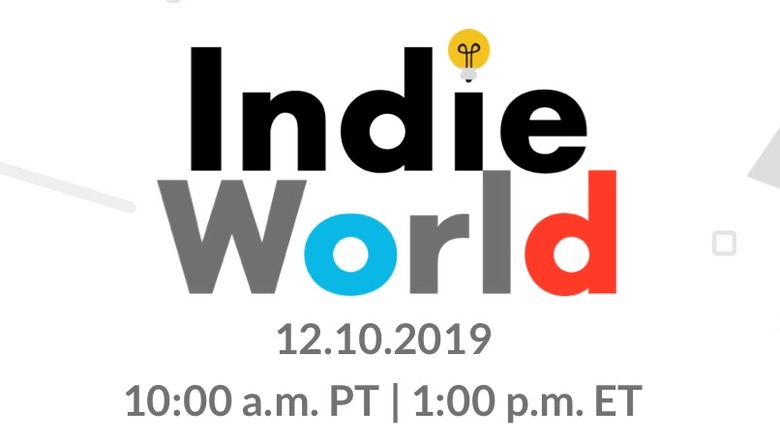 Hot off the heels of Sony's recently announced State of Play, Nintendo has thrown its hat into the ring with its own Indie World Showcase. As the name suggests, you can expect some surprising announcements about indie games coming to the Nintendo Switch. However, don't expect any big Zelda or Mario news.
Nintendo has set the Indie World Showcase to go live on Dec. 10 at 10 a.m. Pacific / 1 p.m. Eastern. Funnily enough, that's the same day as the Sony State of Play, which goes live four hours prior. Suspicious, huh? Whether it was pure coincidence or a strategic decision, there's no denying that it looks like Nintendo's trying to steal Sony's thunder.
We don't know how many indie games will be shown off, and so far, nothing has leaked. The showcase will run for "roughly 20 minutes," but historically, Nintendo's reveal events tend to pack a lot into a short span of time. They usually consist of back-to-back trailers with short voice overs in between, so you likely won't want to miss any of it. More often than not, they tend to be pretty surprising, too, as Nintendo seems to be a big fan of releasing titles on the day they're announced.
Last time Nintendo had an event like this was in August. During the 24-minute video, it revealed all sorts of indie titles coming to the Switch, both old and new. Titles like Ori and the Blind Forest: Definitive Edition, Risk of Rain 2, and SUPERHOT were announced, with the latter releasing the day of the showcase.
That makes this week a pretty big one for gaming announcements. Aside from the aforementioned State of Play and this Indie World Showcase, The Game Awards are set to go live on Thursday evening. No matter what kind of gamer you are, you're bound to get excited over at least one of the many announcements we'll get in the next few days.