You'll Be Able To Stream Two Huge PS4 Exclusives Come January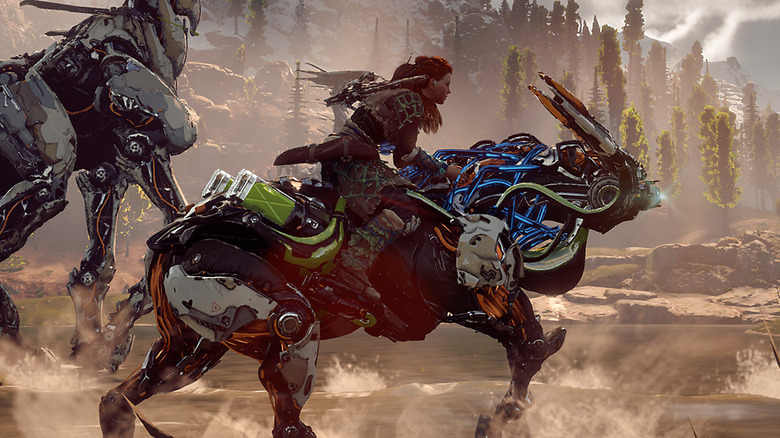 Sony's PlayStation Now service is actually fairly robust in terms of its library. There are hundreds of PlayStation 3 and PlayStation 4 games available to play, but until recently, Sony's biggest first-party PS4 titles were missing in action. That changed a few months back with the additions of God of War and Uncharted 4. Now two more huge exclusives are coming to PlayStation Now in January.
According to the Official PlayStation Blog, subscribers will gain access to Horizon Zero Dawn and Uncharted: The Lost Legacy once the new year rolls around. This is a pretty big deal; not just because PlayStation 4 owners will get either stream or download two big Sony titles, but because these games will be playable on PC thanks to the PlayStation Now app.
Think about that. Come January, you'll be able to play God of War, Horizon Zero Dawn, Uncharted 4, and Uncharted: The Lost Legacy without actually owning a PlayStation console. Sure, you'll be streaming these titles — and there's a question as to how great that experience is versus competing platforms — but the fact still remains.
While this is great news for PlayStation Now subscribers, you shouldn't get your hopes up about Sony dropping bombs like this on a regular basis. The company has no intention of making PlayStation Now anything like Xbox Game Pass, which offers up first-party Xbox titles right at launch. Instead, Sony feels its games are better served by launching at retail first, with PlayStation Now left as an option for a later time.
Still, Aloy is about to join Kratos on the platform, and some enjoying her critically acclaimed adventure won't have a PS4 in sight. If you think about where Sony used to be versus where Sony is now, that's a pretty major shift.
We'll update you if more PlayStation-related news comes down the pipeline.