Ninja Is Playing Fortnite With A Star Wars Legend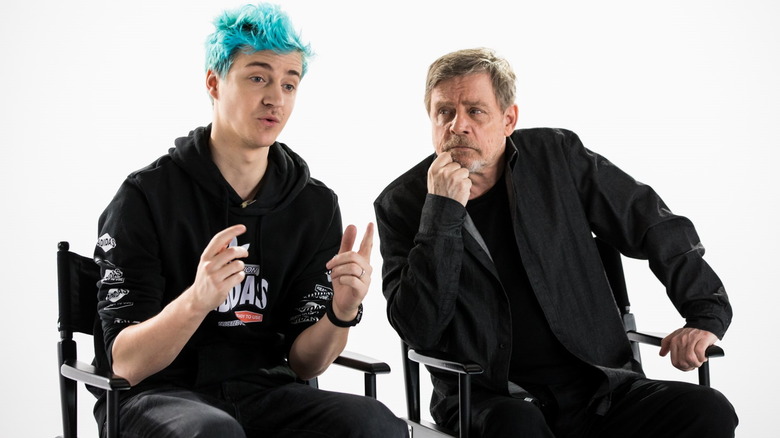 A rather unlikely duo is about to team up to promote Fortnite's latest Star Wars-themed content. Ninja has streamed with celebrities before, but he's never partnered with such star power. Mark Hamill — Luke Skywalker himself — will be giving the game a try alongside its most prolific player.
Mark "HoHoHo" Hamill announced the stream on his Twitter, saying, "Christmas wish in 3, 2, 1... Wait until you see what @Ninja and I have planned with @FortniteGame and @Xbox on Thursday. It's going to be....Amazing! (and I'll try not to make a fool of myself) #XboxPartner." The accompanying video shows him sitting beside Ninja, promising that he and the world's most popular streamer would be showing off some new Fortnite features on Dec. 19.
Reactions to the news have been mixed at best. Some fans are very much hyped to see Star Wars and Fortnite combine. Others say that this blatant promotion is beneath Mark Hamill. Admittedly, the short video seems to prove that Hamill isn't exactly a Fortnite pro. He gets some help figuring out the controls in one quick clip.
Why would Luke Skywalker be concerned with Fortnite in the first place? Star Wars: The Rise of Skywalker and Fortnite are also teaming up this month to promote the new film. In Fortnite, players can wield lightsabers, become Rey or Finn, and blast Stormtroopers. It all started with a live event, hosted by a digital director JJ Abrams, that premiered a clip of the film in-game at Risky Reels.
It was weird and more than a little chaotic. That's what we're predicting the Mark Hamill/Ninja livestream will be like, too. But in the end, fans of both Fortnite and Star Wars seem more excited for the upcoming content than anything. Hamill didn't specify where the Dec. 19 stream would take place, but we'd venture to guess that it will be on Ninja's Mixer channel. He is, after all, streaming exclusively on Microsoft's platform now.