Don't Miss These Free Fortnite Skins And Gliders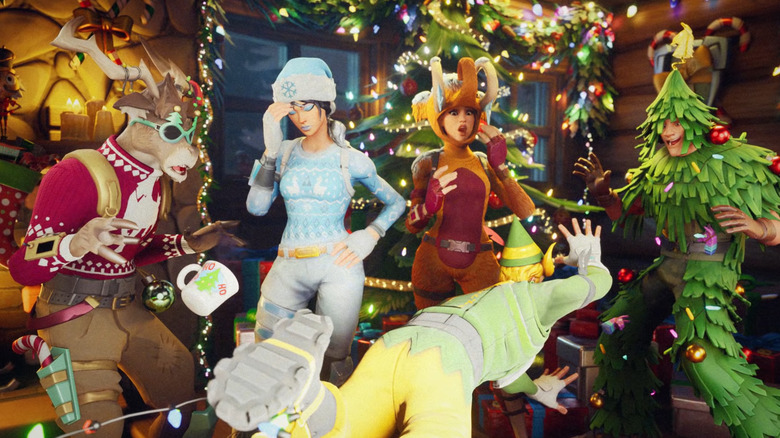 'Tis the season to be jolly about Fortnite's newest event. Winterfest 2019 has officially started, and it's an exciting time for anyone who likes presents. When you fire up the game, you'll see a snowflake icon in the lobby. If you click that, you'll be welcomed into the Winterfest Lodge, a homey, cozy spot to celebrate the end of the year — and get a ton of free goodies.
Advertisement
Every day, Epic Games will add a new present for you to open up in this menu. If you collect every present before the event finishes, you'll have two skins, two gliders, two pickaxes, two wraps, and an emote, with other cool items teased. All of these items are exclusive to Winterfest, so if you like collecting rare skins in Fortnite, you'll want to be on top of this year's Winterfest.
The best part about all this is that it's free. You don't need to complete any challenges or pay any V-Bucks; simply log into Fortnite and unwrap your presents. Furthermore, you don't necessarily have to check in every day. If you miss a day of presents, you'll still find one waiting for you under the virtual tree. As long as you log in before the event ends on Jan. 7, you'll be able to reap all of your rewards. It's a pretty charitable offer, considering that people often travel for the holidays and might miss a day.
Advertisement
For those who want a little more out of their Fortnite holidays, you can check out your in-game stocking for some Winterfest challenges that provide you rewards and XP. These run off the same rules as the presents, so if you miss a day, you can pick up the challenge later. And for the nostalgic Fortnite players who miss some weapons or limited-time modes from previous updates, Epic will be rolling some of those through the game between Dec. 18 and Jan. 2.
The party doesn't seem to end in Fortnite. The yuletide festivities come fresh off a Star Wars crossover event; one that even brought Mark Hamill and Ninja together.