Here's How The Xbox Series X Reveal Was Kept Secret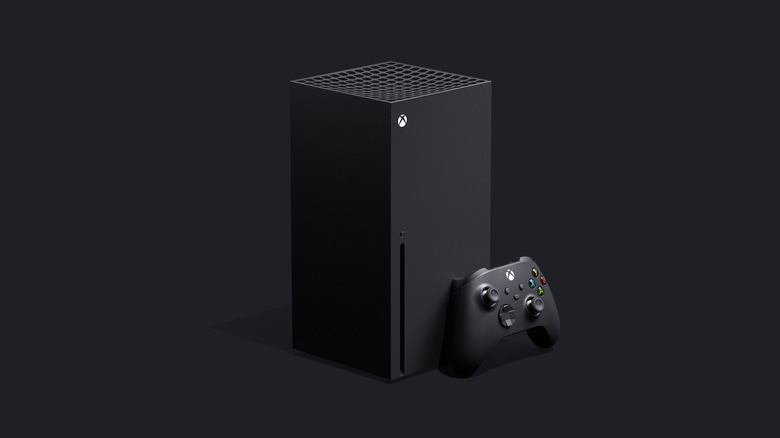 Much of the gaming world was caught off guard by the reveal of the Xbox Series X; after all, a major new console hadn't been shown off at The Game Awards before. But how did the show manage to keep such a big secret? And how in the world did Xbox head Phil Spencer rehearse without spilling the beans?
We now have our answer.
According to a piece from Variety, the Xbox Series X portion of The Game Awards was kept very hush-hush. Phil Spencer knew about it. Geoff Keighley — the show's host and organizer — presumably knew about it. But not a lot of other people were clued in. In fact, when it came time for Spencer to rehearse his speech, he actually faked everyone out by talking about Xbox Game Pass. It wasn't until the show actually aired that the trailer for the Xbox Series X made it in. After that, Spencer delivered his real lines, touting the Xbox Series X as the system to "lead us into the future of console gaming."
The gambit sure paid off, because a lot of people were definitely surprised by the reveal. Some of us here thought we had a handle on what might be shown off during The Game Awards — the Ghost of Tsushima trailer, for instance — but the new Xbox was not on our list. It's probably fair to say the Series X won the night, as plenty of people were talking about it long after the final award had been handed out. That could be what Microsoft was shooting for when it decided to unveil its next generation console at the show.
We still don't know exactly when the Xbox Series X is coming out. Holiday 2020 was the window to watch before The Game Awards, and that remains the case today. But we know of at least one more title that'll come to the Series X, and we know what it looks like. That news wasn't widely known until we heard it with our own ears, so hats off to everyone involved for keeping a tight lid on things.