Monster Hunter Beasts Are Getting Cute In This New Crossover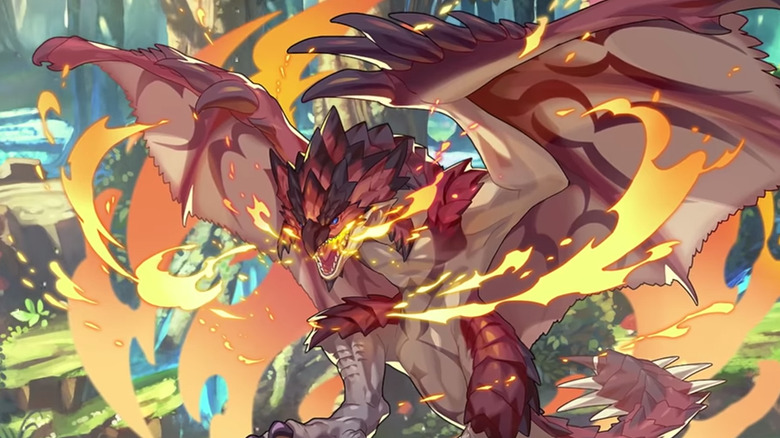 Capcom's Monster Hunter: World is well-known for its crossovers. Earlier this year, we watched as Resident Evil 2's Leon Kennedy and Claire Redfield became hunters, and Mr. X became your new best friend. It was weird, but not nearly as weird as this latest crossover.
Dragalia Lost is a mobile game in which, rather than hunting dragons, warriors borrow their power to fight even bigger, badder dragons. Unlike Monster Hunter's more rugged design or Resident Evil's nitty-gritty gore, this Cygames-developed, Nintendo-published title is downright cute. It has a very anime-esque style with intricately designed characters. And two of those characters, decked out in festive gear, announced a surprise crossover event with Monster Hunter set to launch in late January.
As part of the event, players can add a Rathalos to their Dragalia Lost team. In the words of the announcement video, "this event is going to be off the dang chain!"
The tone of Dragalia Lost and Monster Hunter don't exactly match up, but hey — they both have dragons. Rathalos is a species of fire-breathing wyvern in the Monster Hunter games, but this usually ugly sac of scales got the anime treatment for its Dragalia Lost debut. It's almost cute in the promotional art. Almost. While its level of adorableness is questionable, it will undoubtedly be a powerful addition to any team of dragons.
This isn't the first time that a Capcom game collaborated with Dragalia Lost. In November, Mega Man joined the cute anime crew, allowing players to equip their characters with buster guns. If this relationship continues, maybe Mr. X will also become a kawaii anime character and get in on the action in Dragalia Lost. We can only hope. 
Until then (again, fingers crossed) Dragalia Digest detailed tons of New Years goodies coming to the game, so there's plenty to do until Rathalos swoops into Alberia in late January.