The Nintendo Switch Just Won A Not-So-Flattering Award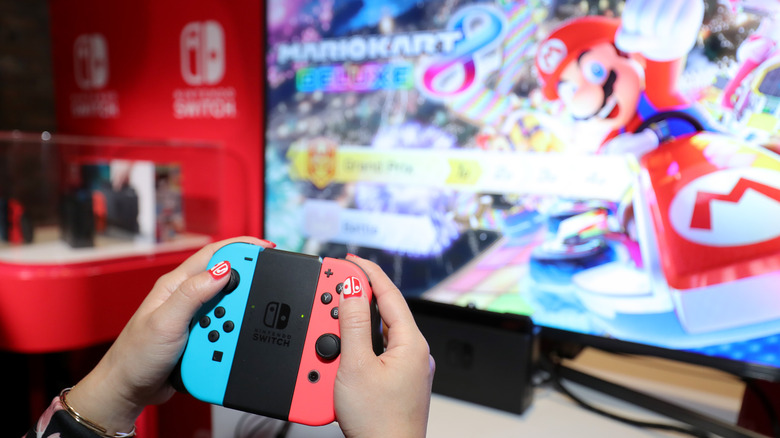 Nintendo's received quite a few honors for its Nintendo Switch console, including having the device named as one of Time's top gadgets of the decade. The Switch recently picked up another award, too, but we have a feeling Nintendo won't be bragging too much about this one.
French magazine 60 millions de consommateurs recently handed out the trophy for what it calls the "Most Fragile" product of 2019. And the Nintendo Switch — thanks to numerous controversies surrounding its durability — took home the top prize, according to Destructoid.
The award shouldn't come as a surprise for anyone who's been following the Switch over the past year or two, as a number of Switch-related topics have made headlines for the wrong reasons. There were stories about consoles warping while docked. Many claimed the Switch's dock could scratch its screen. Third-party docking solutions also seemed to brick many Switches, as the console — well-meaning or not — apparently wasn't compatible with all USB-C chargers.
But things really took a turn for the worst when the issue of "Joy-Con drift" came to the forefront this year. Many Nintendo Switch owners discovered their Joy-Con joysticks would register movements by themselves, even if they weren't being touched. This was an easy if annoying fix, as consumers could send their Joy-Cons in to be repaired or replaced. But when the Nintendo Switch Lite debuted — minus the Joy-Cons but still with the stick drift — that made the issue even more frustrating for consumers.
Nintendo has reiterated time and again that anyone facing issues with their Switch can reach out to Nintendo support for help. But really, when you're buying a product for entertainment, you hope this will be a last resort option and not something inevitable. Hopefully Nintendo gets the kinks worked out in future Switch revisions. And, hopefully, Nintendo sees this award as a sign that it has to do a little better.
We'll let you know if Nintendo issues a comment regarding the Switch's "Most Fragile" award victory.