Untitled Goose Game Just Hit A Huge Honking Milestone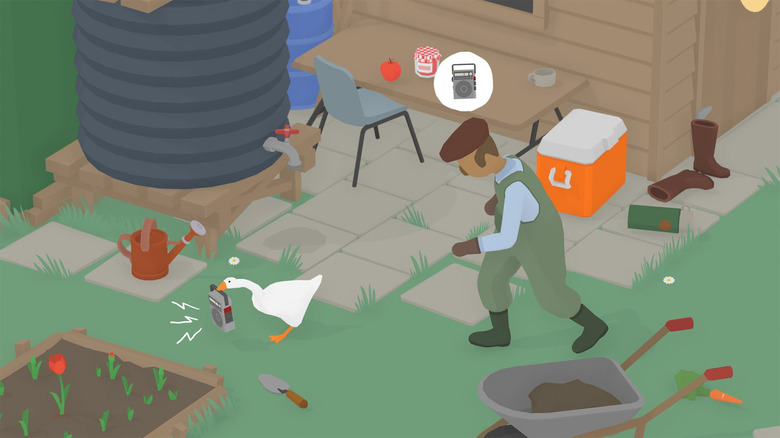 How hot has the goose from Untitled Goose Game been this past year? He got to star in a Game Awards skit. He was honored with a Resident Evil 2 mod that transformed Mr. X into something a little goosey. And now his game — the one that has a title even though it says it doesn't — just hit a huge sales milestone.
"It seems impossible, but last week, three months after launch, Untitled Goose Game passed one million copies sold," tweeted the game's publisher, Panic. "From the bottom of our hearts: thank you for playing our videogame."
The meteoric rise of this one particular goose has been an incredible thing to watch. His trollish antics, honks, and general adorableness helped him win countless hearts days after the game's launch. And the fervor reached a high when, at one point, model Chrissy Teigen tweeted about the game, lamenting the fact that she couldn't buy it because her husband — singer John Legend — was the "adult" on her Switch eShop account.
And though the game initially launched on Nintendo Switch and PC via the Epic Games Store, the teams at Microsoft and Sony instantly knew this one could be a hit. The game came to both consoles pretty recently, and Microsoft even went so far as to ink the game for a run on Xbox Game Pass, ensuring subscribers of that service have instant access to goose-related shenanigans.
With the game's massive success, we can't help but wonder if developer HouseHouse will get to work on a sequel, or if there's some other game the team there wants to build. Perhaps an Untitled Pigeon Game? Or an Untitled Turtle Game? Whatever the case, we're willing to bet HouseHouse is on just about everyone's radars now. Regardless of what the studio makes next, it'll have tons of eyes on it.