GTA Voice Actor Slams Rockstar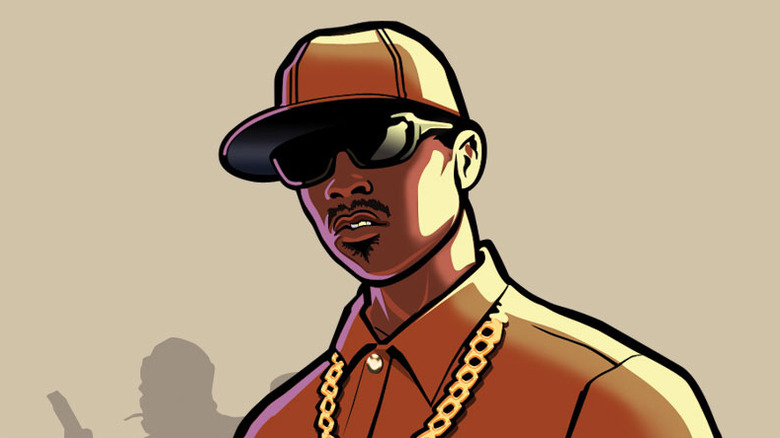 Rockstar Games has developed a reputation for its questionable practices over the years, including its rocky relationship with several Grand Theft Auto voice actors. More evidence of this mysterious antagonism surfaced today. Remember Carl "CJ" Johnson from Grand Theft Auto: San Andreas? Chris Bellard, better known as Young Maylay, provided the voice for the character. Though CJ has returned to the public eye as a meme, Young Maylay has made it clear he has no love for Rockstar.
Advertisement
Alongside a screenshot of an article speculating on CJ's possible return, Maylay wrote: "I'm not involved in GTA VI at all.. F*** @Rockstargames period.. CJ will have to be voiced by another MF but not me IDGAF what yall heard..." Basically, Maylay thoroughly quashed any hope that Grand Theft Auto 6 will come with a healthy dose of San Andreas nostalgia. And he's less than apologetic about it, too. Rather than give an explanation, Maylay has used the comment section on this Instagram post to rage against the Rockstar machine.
"I never publicly dissed them because I made money from them but f*** @rockstargames them mf don't care if I'm eating or not," read just one of Maylay's many follow up comments. Followers were divided between celebrating his big break up with the games and asking why he was so mad. "No disrespect to Dan Houser AT ALL, but... they're Culture Vultures MF's from London making BILLIONS off LA n***** and we don't see 10% of that..."
Advertisement
It's no secret that Rockstar makes a ridiculous amount of money from Grand Theft Auto. Grand Theft Auto 5 has sold more copies than any other game in the US and Grand Theft Auto Online has kept the cash rolling in almost a decade after the game's release. The highest selling game for the PlayStation 2 back in its heyday, Grand Theft Auto: San Andreas also held its own financially. The real question here is: how much does Rockstar pay their voice actors?
Not enough according to previous actors like Michael Hollick. Hollick voiced fan favorite Liberty City immigrant, Niko Bellic. Like Young Maylay, he doesn't have warm and fuzzy feelings for Rockstar. In exchange for his iconic performance, Hollick made a six figure flat rate, a number that pales in comparison to Grand Theft Auto 4's wild success.
"Obviously I'm incredibly thankful to Rockstar for the opportunity to be in this game when I was just a nobody, an unknown quantity," he said in an interview with The New York Times. "But it's tough, when you see Grand Theft Auto 4 out there as the biggest thing going right now, when they're making hundreds of millions of dollars, and we don't see any of it."
Voice actors like Hollick and Malay feel exploited and under-compensated for the roles they played in making Rockstar a multi-million dollar company. "For instance, our contracts say nothing about the use of voices for promotional purposes over the Internet. The first GTA 4 trailer generated something like 40 million hits online, and that's my voice all over it, and I get nothing. If that were a radio spot, I would have. Same thing for the TV ads. I recorded those lines for the game, but now they're all over television. It's another gray area," Hollick clarified.
Advertisement
Young Maylay seems to feel that Rockstar is profiting off of a culture it has nothing to do with, and that the company isn't properly compensating the people that make it more authentic. He raises some important questions, both about voice actor rates and cultural appropriation in video games.
"I was going to beat the s*** out of that dude that played Niko Bellic for talking down on @rockstargames but for what? He exposed the truth... I'll NEVER work with @rockstargames again unless I get a few million to the [pocket]..." Young Maylay wrote. The performer doesn't paint a pretty picture, portraying Rockstar's management team as cheapskates who make millions from the work of poorly paid voice actors. 
Rockstar has had issues with big names like Burt Reynolds and Ray Liotta too. This had more to do with their egos, apparently. According to an interview with Dan Houser in Vulture, Reynolds had a temper, and the creators had to coax Liotta into taking his part seriously.
All this drama comes on the tail of rumors that Grand Theft Auto 6 is currently in production behind closed doors at Rockstar. Fans remain hopeful for news about the much anticipated follow up to one of the world's most successful video games, but it looks like voice actors aren't nearly as keen. Maybe all this Maylay mayhem will make the folks at Rockstar consider paying their voice actors a bit more.
Advertisement