Big Bayonetta 3 News Is On The Way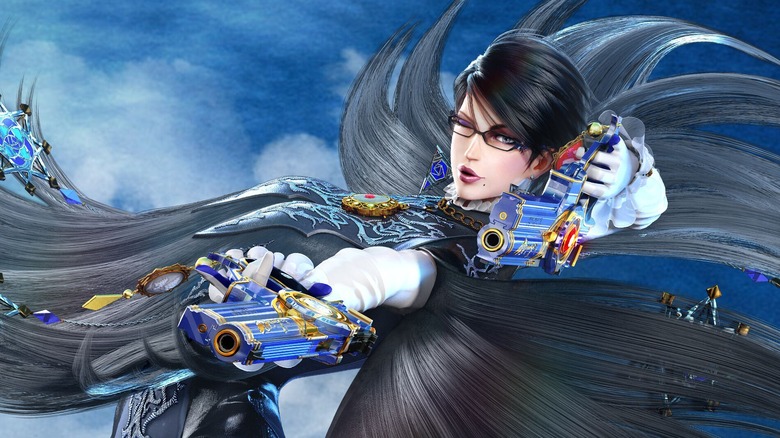 Fans of over-the-top supernatural action may rejoice. According to a report from Silicon Era, we may be able to expect our first substantial news on the long-awaited Bayonetta 3 sometime in the near future.
In an interview with Inside Games that was translated by Silicon Era, PlatinumGames studio head Atsushi Inaba said, "Starting early on in the year, I believe we'll continue to roll out various announcements, big and small, throughout the year." One of the titles included in those announcements is intended to be Bayonetta 3, a game that has been shrouded in secrecy up until now.
The Bayonetta series, which features a twisting time-traveling plot concerning the titular witch fighting against corrupt gods and angels, has left fans hungry for a sequel since the release of Bayonetta 2 in 2014. Though Bayonetta 3 was first officially announced as a Nintendo Switch exclusive in 2017, there has been little to no information released regarding its plot, setting, or characters. Even the English voice actress for Bayonetta herself, Hellena Taylor, said in 2018 that she was still completely in the dark about the game's details, including whether or not she'd be reprising the role. 
In a previous interview Inaba had with Video Games Chronicle, it was reported that Bayonetta 3 would be undergoing "a change in design process based on Platinum Games' experience creating the first two games," which is an encouraging (albeit vague) sign that the game will attempt to do things that fans haven't seen before in the series.
In the meantime, gamers can fill that Bayonetta-shaped hole in their hearts by choosing to play as her in Super Smash Bros. Ultimate or by picking up the well-received ports of the first two games in the series for the Nintendo Switch. The series also saw an anime adaptation in Bayonetta: Bloody Fate, for those fans who just want to put down the controller and watch their favorite witch wipe the floor with her enemies.