The Sims 4 Is Bringing Big Changes With 'Tiny' Content Update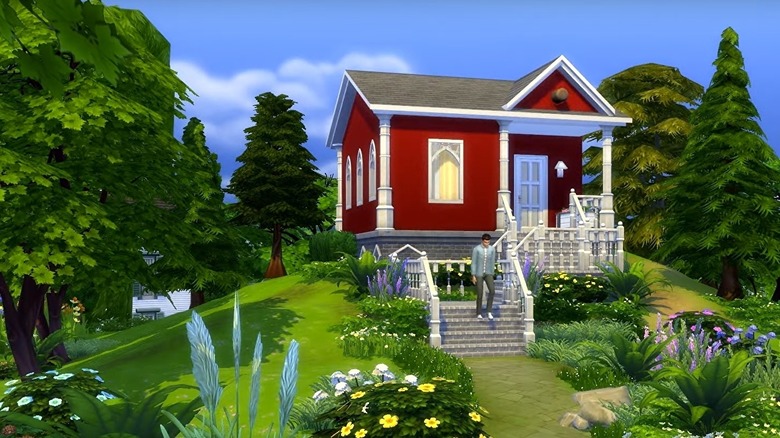 The Sims series allows for players to live out their wildest architecture dreams: they can build mansions, perfect fantasy families, and even construct shrines to their favorite baby alien. Lately, however, fans have been wanting to take a more minimalist approach. Fortunately, an update for The Sims 4 called Tiny Living is on the way so players can embrace the tiny house lifestyle.
The downright adorable trailer for Tiny Living encourages players to embrace space-saving and minimalist trends, shunning the sprawling mega-mansions of past Sims titles. Players can make careful use of just 100 tiles of space, picking out the smallest and trendiest of furniture. You can fit a surprising amount of stuff in these itty bitty spaces, and The Sims 4 is adding in some items that mesh well with the tiny home lifestyle.
Shelves, lamps, rugs, and more have been made with these small spaces in mind and are included in the update. And beds are usually too big for these adorable A-frames and minuscule studio apartments, so The Sims 4 has offered the space saving solution of Murphy beds. Be careful though, because those things seem to have a mind of their own. (Woohoo with caution.)
There are some perks to living little rather than large, too. Small homes means small bills and an apparent comfort bonus. The well-landscaped designs shown off in the trailer do indeed look rather cozy. Remember: when it comes to tiny homes, less is more. That said, there are some more clothes coming jam-packed in with the Tiny Living update, like a stylish jean jacket and a snug new sweater.
This long-awaited Tiny Living update is coming to Mac and PC on Jan. 21. Xbox One and PS4 players will have to be patient and wait until Feb. 4 to try out the minimalist lifestyle.