Resident Evil 3 Remake Will Remove These Popular Features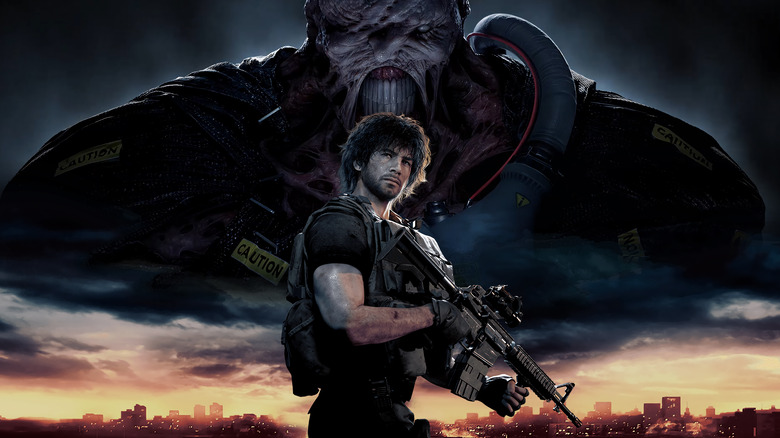 The highly anticipated remake of Resident Evil 3 is set to drop on April 3, but fans may already have a few reasons to be afraid. Official PlayStation Magazine UK (via VG24/7) recently picked Capcom's brains in an interview about the game. In the process, we learned that quite a few big changes were coming to the remake — including the removal of some features from the original.
Perhaps the most notable difference is the absence of The Mercenaries mode. The Mercenaries was a timed action mini-game included in the original version of Resident Evil 3 that featured a supporting character attempting to blast their way through Raccoon City. It has since appeared in multiple installments of the franchise, even getting its own spin-off for the Nintendo 3DS.
In the place of The Mercenaries will be the multiplayer game Resident Evil: Resistance, which will be released as a separate mode within Resident Evil 3. We'll see if this will placate fans who were expecting a fully reimagined Resident Evil 3 experience.
On top of that, the remake will also ditch the multiple endings of the original. This is admittedly a surprise, as the original version of the game featured small deviations to its finale, depending on certain choices made by the player.
It's not all bad news, though. Supporting character Carlos Oliveira will receive an expanded role in the remake, which is great news for fans of the character who want to see him take an even more active part in the narrative. In fact, Capcom teased that more than one character would see their story arc beefed up in the new iteration of Resident Evil 3. Anyone worried that the game's campaign would suffer from the same short length as the original should be pleased to hear of this change, at least.
It's worth remembering that the Resident Evil franchise is full of games that began life as very different titles. Maybe the changes made here will bring out the best that the classic game has to offer.