This Sonic 2 Port Will Restore A Classic Character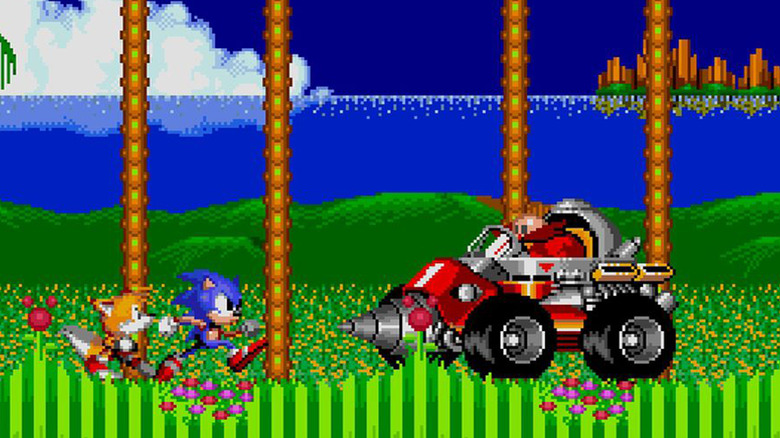 Knuckles the Echidna is set to make his proud return to 16-bit gaming. As reported by Japanese video game magazine Weekly Famitsu (translation courtesy of Gematsu), Sonic's rival-turned-pal will be included in the upcoming Sega Ages port of Sonic the Hedgehog 2.
This is great news for fans who remember the original release of Sonic & Knuckles on the Sega Genesis. The game cartridge featured unique "lock-on technology." With this feature, players who owned Sonic & Knuckles could attach the carts of any of the first three Sonic games to a port in the Sonic & Knuckles cartridge. This would allow for gamers to play through the original trilogy of Sonic games with Knuckles as the playable character.
Thanks to Knuckles' unique abilities — such as the ability to hover and climb up walls — it truly felt like playing through an all-new game. Locking on with Sonic 3 would also open up new areas within both games, presenting Sonic 3 & Knuckles as one connected story. It was a revolutionary concept at the time, so it's great to see some of that connectivity explored within this new port.
Sega Ages Sonic the Hedgehog 2 still doesn't have an official release date. This is a little frustrating, considering the port was originally announced way back in 2018. Still, it's looking like it'll be worth the wait. In addition to Knuckles' co-starring role, Sega Ages Sonic the Hedgehog 2 will include a few extra playing modes. This includes an exciting "Super Sonic Mode," which will allow players to start the game with all of the game's Chaos Emeralds and a fully-powered Sonic.
The Sega Ages line is on a roll lately. Just last week, it was announced that ports of Shinobi and Fantasy Zone would be released for the Switch at the end of January.