God Of War Animator May Have Just Teased The Sequel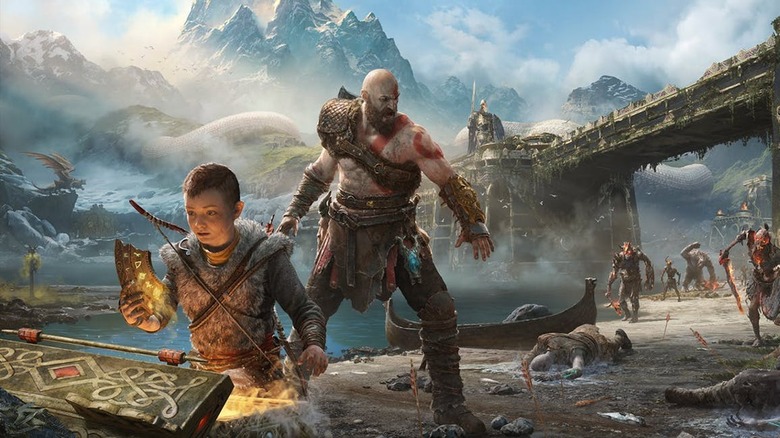 If this means what we think it means, then Ragnarok may be much sooner than we expected. Kim Newman, a narrative animator for Sony Santa Monica, recently tweeted an image that seems to suggest the sequel to God of War is in the works.
In the photo, Newman can be seen wearing a motion capture outfit and striking a powerful pose. The accompanying caption reads, "Feels good to be back in the suit." While this could be related to another project, it should be noted that there's already plenty of evidence to suggest that God of War 2 is further in development than it appears.
Feels good to be back in the suit.💪 @SonySantaMonica pic.twitter.com/JlfnZB1r8Q

— ˗ˏˋKim Newmanˊˎ˗ (@KimboSlasher) January 10, 2020
It's not too far a leap to imagine this being confirmation that development has begun on the sequel's animation. For one, Sony Santa Monica was hiring people familiar with the franchise as early as last June. Also, God of War director Cory Barlog has been openly teasing the setting of the sequel for some time. Heck, there was even a PS4 theme that featured the ominous phrase "Ragnarok is coming."
This would, of course, refer to the twilight of the Norse gods and the end of the world. Given how the last game ended, we can probably expect plenty of apocalyptic action when God of War 2 is officially announced. Barlog previously mentioned that DLC for God of War had been canceled for being "a little too big," so perhaps some of those concepts will come to fruition in the sequel.
In the meantime, fans are already chomping at the bit for any kind of confirmation. The responses to Newman's tweet are all varying degrees of excitement. Some fans expressed their desire to see the new God of War. Others were content to simply share hilarious celebratory gifs of Kratos and his supporting cast.
One thing's for sure: Sony Santa Monica knows what it's doing by letting small confirmations like this trickle out. The anticipation is already reaching a fever pitch before we have so much as a screenshot from the game itself.